First subway line opens in Xi'an
Updated: 2011-09-17 17:59
(Xinhua/chinadaily.com.cn)
| | | | | | | | | | | |
| --- | --- | --- | --- | --- | --- | --- | --- | --- | --- | --- |
|   | | Comments() | | Print | | Mail | | Large Medium  Small | 分享按钮 | 0 |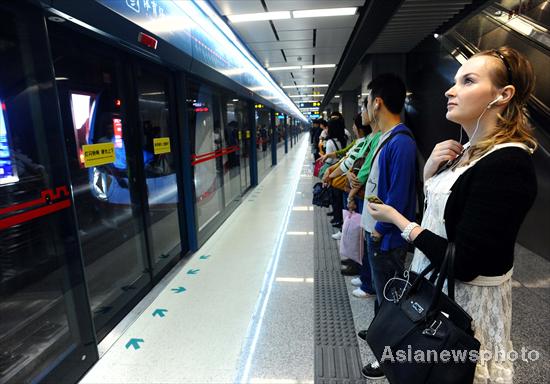 Subway Line 2 in the city of Xi'an is the first subway line to operate in Northwest China. It opened on Sept 16, 2011. [Photo/Asianewsphoto]
XI'AN - Xi'an, one of the oldest cities in China and home to the world-famous Terracotta Army, opened its first subway line on Friday, taking a major step toward building itself into a metropolis in the country's relatively undeveloped western region.
Xi'an's Subway Line 2, the first subway line to open in northwest China, went into operation at noon Friday, five years after construction on the line began. The line runs north-south across the ancient city, passing the Ancient City Wall and Bell Tower historical sites.
The subway line currently runs just over 20 km in length, but will eventually be expanded to a length of 26.3 km, according to Zhang Jianzheng, secretary-general of the provincial government.
In order to allow the subway line to blend in with the ancient city, the trains and stations were designed to incorporate artistic and cultural elements from the Qin, Han and Tang dynasties. Xi'an served as China's capital during these dynasties.
As the most expensive infrastructure project in the city's history, the subway line has drawn a great deal of public attention since construction first started. Nearly 50,000 passengers lined up for free rides during a four-day trial run that took place from last Thursday to Sunday, according to the city's subway construction office.
The subway line runs along Xi'an's central axis, an area of the city that is known for its dense traffic congestion. Commuters have already begun to praise the new subway line.
"One of my colleagues lives near Xiaozhai Station. The train allows her to get to work in just 25 minutes. Before the line was constructed, she had to spend over an hour commuting to work, sometimes even more," said Tang Mei, a primary school teacher from Xi'an.
Six subway lines with a total length of over 200 km are scheduled to be built in Xi'an by 2018 as part of the city's ambitious plan to become one of China's largest urban areas. Plans have been made to integrate Xi'an with the neighboring city of Xianyang to create a single metropolitan area with more than 13 million residents.
Historical protection necessary
Building subway lines without bringing harm to Xi'an's numerous historical sites has been a considerable challenge for city planners.
Zheng Yulin, director of the city's cultural relic bureau, said that the construction of the new metro system was designed to avoid major historical sites in order to minimize any potential damage. Subway tunnels were dug at a depth of more than 12 meters in order to avoid disturbing any potentially undiscovered relics, which are commonly found at a depth of eight meters, Zheng said.
Designers have also made sure to place the tunnels at least 15 meters away from the Bell Tower, a symbol of the ancient capital that stands in the city's center, according to Chen Dongshan, head of the city's subway construction office.
Finally, springs and steel plates have been installed underground to absorb and isolate vibrations that might damage nearby historical sites, said Zhao Rong, director of the provincial cultural relic bureau.
Hot Topics
Organ transplant bonds mother and son