Suffering the pain for daughter
Updated: 2011-09-14 07:37
By Cang Wei (China Daily)
| | | | | | | | | | | |
| --- | --- | --- | --- | --- | --- | --- | --- | --- | --- | --- |
|   | | Comments() | | Print | | Mail | | Large Medium  Small | 分享按钮 | 0 |
BEIJING - A farmer whose child was severely burned in a fire had surgery to donate his skin without general anesthesia, as he could not afford the medical fees.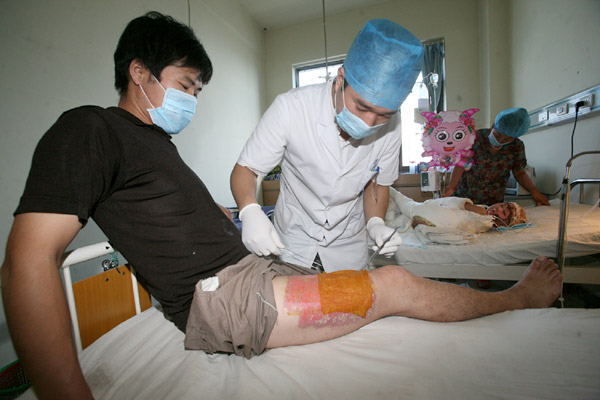 Du Jinhui, who donated his skin to his daughter without general anesthesia during the operation, receives treatment in a hospital in Shijiazhuang, Hebei province, on Sept 5. His daughter, who was severely burned in a fire, lies in the bed next to him.[Photo/China Daily]
Du Jinhui, 31, volunteered to endure the pain after learning his 5-year-old daughter had suffered burns to 60 percent of her body in a blaze on Aug 16.
"He broke out in a sweat and screamed when I removed the skin," said Shi Longjie, the doctor who operated on Du at Hebei Friendship Hospital in Shijiazhuang, the provincial capital.
"Though he was in great pain when his skin was removed, he still asked me to take away more skin if it was good for his daughter," Shi added.
Shi said removing skin under local anesthesia is risky and painful, but Du a migrant worker from Lingshou county in Hebei province, said his decision was "natural" and that any father would do the same for their child.
Du said after the operation that he could not afford to have general anesthesia so he opted to take more than 100 shots of local anesthetic, which cost about 700 yuan ($110) less.
He said another reason for him to choose local anesthesia was that he would not be able to see his daughter in the operating room if he took the general anesthesia.
"The doctor told me I wouldn't be able to move for about six hours if I took the general anesthesia," said Du. "I didn't want to miss my daughter's operation."
News of his bravery has touched many Chinese people and prompted questions about the healthcare available in China for rural residents.
"Where are the social security system and the medical care system when they are supposed to take effect?" said a netizen posting under the name Chenxiaolongv from East China's Shandong province on Sina Weibo, China's largest micro-blogging platform.
"Even if the medical care system has waived part of the fees, some patients still can't afford the rest," said Ding Jianding, director of the Social Security Institute under Huazhong University of Science and Technology.
Ding said that under the rural cooperative medical care system a farmer will be reimbursed about 60 percent of any medical costs, which should range between 1,000 yuan and 40,000, depending on local economic conditions.
But even though his daughter was covered by the rural cooperative medical care system, and the hospital exempted part of the cost of treatment, Du was still worried the family would end up with a debt of more than 100,000 yuan because of the medical bills.
Du earns about 10,000 yuan a year. Besides taking care of his two daughters and jobless wife, who was also injured in the fire, he still needs to support his parents, who live with him.
Shi, the doctor who operated on Du, said his patients living in rural areas frequently choose to give up treatment if their conditions are serious, as they cannot afford the treatment.
Ding said the medical care system for serious illnesses in rural areas should be improved to reduce the financial burden of farmers.
"We hope that the current reimbursement percentage of the medical bill, which cannot meet people's needs, will be increased in the future," said Ding.
Thanks to wide media coverage, people have donated at least 30,000 yuan to Du's daughter for her treatment.
But netizens called for more to be done for many other poor rural families who might be in a similar plight.
Hot Topics
Organ transplant bonds mother and son
Editor's Picks
| | |
| --- | --- |
| Floods rattle Pakistan, 300,000 homeless | |