Tightrope walker commits to popularize Dawaz
Updated: 2011-09-14 06:45
(Xinhua)
| | | | | | | | | | | |
| --- | --- | --- | --- | --- | --- | --- | --- | --- | --- | --- |
|   | | Comments() | | Print | | Mail | | Large Medium  Small | 分享按钮 | 0 |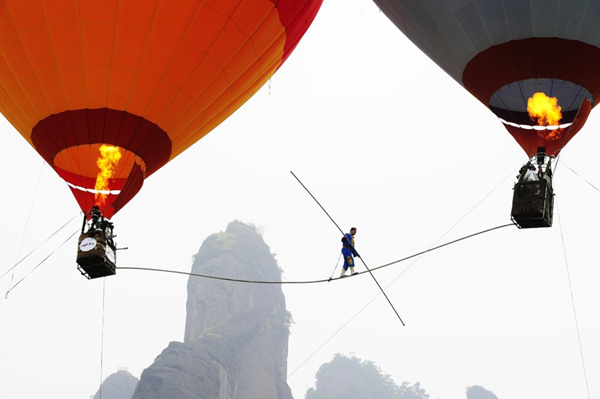 Saimaiti Aishan, the nephew of Adili Wuxor, walks on a tightrope connected between two hot air balloons during an attempt for setting a record in Langshan, Central China's Hunan province, Aug 6, 2011. [Photo/Asianewsphoto]
GUIYANG - Nothing could make Chinese Uygur Adili Wuxor happier but Dawaz becoming a well-known and better inherited performance.
"China now have a 30 percent population knowing about Dawaz, and my goal is to make it a double more," said the high-wire walker.
Dawaz, one of the 186 demonstration events here at the ongoing Chinese Traditional Games of Ethnic Nationalities, is the Uygur name for high-wire walking.
When Adili performed Dawaz at the second Ethnic Games 29 years ago, tiptoeing along a tightrope 20 meters above the ground with a balance beam in his hands and doing somersaults, sit-up, armstand, jumping and other daredevil moves, the whole scene was stunned and a new world has been spreading in front of both the performance and the then 11-year-old boy.
He became a professional Dawaz performer thereafter and further stunned the world with a string of record-breaking challenges.
In 1997, Adili skywalked above the Yangtze River in 13 minutes and 48 seconds along a 640-meter-long wire at a height of 400 meters to repeat the previous world Guinness record holder Jay Cochrane's feat. The Canadian American, so called "Skywalking Prince", timed 53 minutes and 10 seconds in East China in 1995.
Adili later recorded the longest walking distance on a 1,399-meter wire between two apices of Hengshan Mountain, Hunan province in 2000, before he stayed on a wire for 600 hours and wirewalked for a total of 123 hours and 48 minutes at Beijing's Jinhai Lake in 2002 to break Cochrane's mark of living-on-wire for 21 days in 1981.
One year later, Adili, the sixth generation of a high-wire walking family from Xinjiang, Northwest China, set another Guinness record, walked along a steel rope 687 meters across the Chongqing Cliff, nicknamed "Tiankeng" in Southwest China, at a record height of 662 meters above the ground.
The five Guinness records holder, however, came out unsatisfied of just enjoying his own fame. Those pinnacles in Adili's career sparked his desire for bigger achievements.
He founded a company in 2007 to organize Dawaz show touring around the country and built up a movable circus in the downtown of Xinjiang Uygur Autonomous Region's capital city Urumqi.
"It has been my dream to own my own circus since I was a little boy," said the 40-year-old Adili. "And now there it is. Tourists can come watching Dawaz whenever they travel here to my hometown."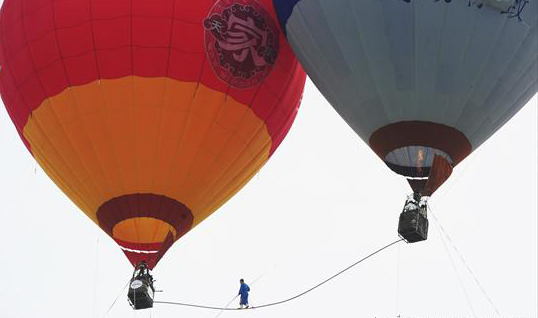 Saimaiti Aishan, the nephew of Adili Wuxor, walks on a tightrope connected between two hot air balloons during an attempt for setting a record in Langshan, Central China's Hunan province, Aug 6, 2011. [Photo/Asianewsphoto] 
His circus and company are not just for business but an establishment to cradle successors for Dawaz.
There're 30 well taught Dawaz performers in Adili's Dawaz organization, and ten of them has followed his legend to take part in the ninth Chinese ethnic games, slated here on September 10-18, to continue the work of promoting the Uygur characterized high-wire walking stunt.
"The Ethnic Games mean a lot to me. It's a very good chance to make people know about some traditional sports of ethnic nationalities, and every version of the games counts," said Adili.
His circus has not been commercially as successful as he expected, but Adili is very confident about the potential of Dawaz as a mercantile performance.
"My father walked on high wire when he was 70 and I hope my career will be that long," he said. "If I do so, it leaves me a plenty of time to make Dawaz more popular."
Hot Topics
Organ transplant bonds mother and son
Editor's Picks
| | |
| --- | --- |
| Floods rattle Pakistan, 300,000 homeless | |