Number of elderly puts burden on pension system
Updated: 2011-08-25 08:07
By Li Yao (China Daily)
| | | | | | | | | | | |
| --- | --- | --- | --- | --- | --- | --- | --- | --- | --- | --- |
|   | | Comments() | | Print | | Mail | | Large Medium  Small | 分享按钮 | 0 |
BEIJING - China's rapidly aging population poses serious challenges to the introduction of an affordable comprehensive pension system, a top legislator said on Wednesday.
Li Jianguo, vice-chairman of the Standing Committee of the National People's Congress (NPC), said China's pension system has yet to expand its narrow coverage, deal with urban-rural and regional imbalances, and increase the level of pension payments, which is now 55 yuan ($8.61) a person a month.
Social security funds have registered deficits in some regions, because the number of retirees exceeds the number of laborers, Li said in a review report on the implementation of the law on the protection of senior citizens' rights.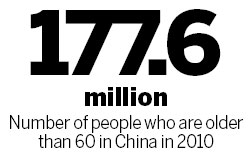 Li called for careful management of the national pension funds to reduce the risks and increase value.
Yan Yixin, another lawmaker of the NPC Standing Committee, stressed that value-adding financial operation of the 1.3 trillion yuan of pension funds should be raised to a national strategic level, because it consists of the bulk of China's 2 trillion yuan of social security funds, but is currently run with a slim 2 percent rate of return.
According to census data from 2010, there are 177.6 million people older than 60 in China, making up 13.26 percent of the total population, and the number is estimated to exceed 200 million in 2014.
A declining birth rate will add to the pressure. Five laborers had to support one pensioner in 2010. In 2020, three laborers will have to do the job, the report said.
China launched a new rural pension system on a trial basis in August 2009. It has attracted 190 million rural villagers, benefiting 51.7 million people older than 60.
It will cover 60 percent of townships nationwide by the end of this year, up from 24 percent in 2010.
The pension plan for urban residents, which began a trial phase on July 1, aims to cover 60 percent of the urban population by the end of this year and will ensure pension payments to the unemployed when they reach the age of 60, so long as they have paid into pension accounts for at least 15 years.
Du Peng, director of the Institute of Gerontology at Renmin University of China in Beijing, said China today still has enough laborers to support a comparatively small number of pensioners, but regional imbalances in pension fund collection and distribution and the massive flux of migrant workers have added to the complexity of the issue.
"It is a milestone that China is striving for full pension coverage for all citizens. And the next big thing is to increase the level of monthly payments based on local economic development," Du said.
Full coverage means it is essential to apply sound financial management, so that today's laborers will receive adequate support for basic living expenses in 20 or 30 years despite inflation, he said.
In addition, Du said, measures to improve nursing services and medical insurance should go hand in hand with the pension system to guarantee the elderly a good quality of life.
Statistics show beds at nursing homes in China can only meet the needs of 1.8 percent of the elderly population.
In addition, the number of professional caregivers is too small. Most hired helpers are untrained migrant workers who work for meager pay, said Fang Jiake, deputy director of Hetong Senior Citizens Welfare Association in Tianjin.
To provide care for 33 million frail or disabled senior citizens, 10 million professional caregivers will be needed. There are only 300, 000 in China and less than 100,000 of them have vocational qualifications.
According to Wang Yanrui, founder of Senior Citizen Cooperative, a community-based non-profit organization launched in 2006 in Beijing's Shijingshan district, the authorities have started to pay more attention to the needs of the elderly, citing as an example the monthly 100-yuan voucher that the Beijing government provides each citizen older than 80 to pay for services including cleaning and cooking.