Bullet trains told to reduce speed
Updated: 2011-08-11 07:24
By Wang Zhenghua (China Daily)
| | | | | | | | | | | |
| --- | --- | --- | --- | --- | --- | --- | --- | --- | --- | --- |
|   | | Comments() | | Print | | Mail | | Large Medium  Small | 分享按钮 | 0 |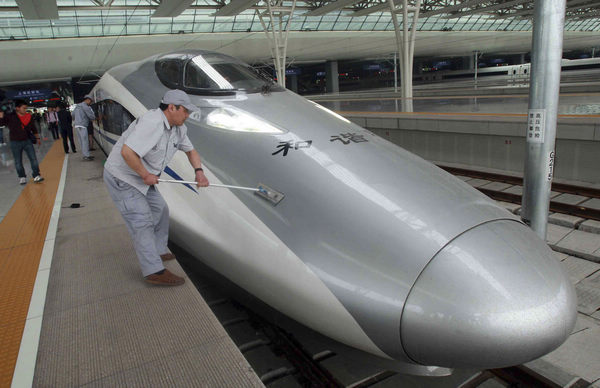 A worker cleans a high-speed train before it departs from Shanghai for Beijing. The State Council plans to lower the speed of the trains in the wake of a deadly train crash that killed 40 people last month. [Photo/Xinhua]
Decision shows slower program for rails: experts
BEIJING - China has decided to lower the operating speed for its bullet trains due to safety concerns amid an overhaul of the high-speed rail system.
The decision, made by an executive meeting of the State Council presided over by Premier Wen Jiabao on Wednesday, came after a bullet train crash last month in which 40 people died and nearly 200 were injured.
The decision is a signal that China is slowing its ambitious high-speed rail program, which has put the country in the same league as Japan and Europe in terms of high-speed rail development, experts said.
The country also decided to reevaluate the safety systems of rail projects that have been approved but yet to start construction, and to suspend the examination or approval of newly proposed projects.
According to the Ministry of Railways, during the initial stages, trains with a top design speed of 350 kilometers per hour will be lowered to 300 km/h, and the trains designed to run up to 250 km/h will operate at 200 km/h.
The rails whose speed was previously raised to 200 km/h will be scaled down to 160 km/h. Ticket prices will also be reduced.
But the State Council and the Ministry of Railways did not specify how many lines would be affected as many of the top- and second-tier cities, such as Beijing, Shanghai, Nanjing and Xi'an were linked by high-speed rails and a number of others, including Guangzhou, Shenzhen and Zhuhai in the Pearl River Delta region, are expected to open lines.
The 21st Century Business Herald cited an unidentified ministry official as saying on Wednesday that the speed of all high-speed rails and passenger lines would be scaled down except the Beijing-Shanghai, Beijing-Tianjin and Shanghai-Hangzhou high-speed lines.
Rail traffic experts called the decision a remedial action.
"It's a rational adjustment," said Zhao Jian, a railway expert at Beijing Jiaotong University, adding that the decision makers have realized the problems that they previously ignored, and in the long term it is a positive move for China's rail development.
"The decision will have an impact on the market, for instance on suppliers of train parts. But it will benefit them in the long run," he added.
Yang Hao, a professor of traffic and transportation at Beijing Jiaotong University, foresees a definite impact on China's exports of advanced rail technologies.
"China needs some time to consolidate its safety management system on bullet trains," he said. "The export of technologies will slow down."
The slowdown will also have a huge impact on passengers such as Zhang Yu, a designer who lives in Suzhou in Jiangsu province and travels every week on bullet trains to nearby Shanghai for work.
"The high-speed rail has become closely connected with my life and work but I feel at a loss now," he said.
"I might have to choose one of the cities, Shanghai or Suzhou, to work and live in if the train speed is lowered too much."
At Wednesday's executive meeting, the State Council promised safety checks on high-speed railways that are both in operation and under construction.
The State Administration of Work Safety will lead the inspection of equipment quality, operation safety, and design and quality of rails under construction, it said in a statement.
The State Council also decided to expand the team in charge of probing the July 23 accident - which occurred when a high-speed train on a line near the city of Wenzhou crashed into the rear of another train stalled on the tracks due to signaling problems.
In a separate interview, Railways Minister Sheng Guangzu said the ministry has checked and tested all rail zones that adopted the same defective signaling system near Wenzhou - developed by a domestic supplier - and has taken remedial measures.
In the long term, the ministry will apply a strict standard on the importing of high-speed rail equipment as it promised to strengthen the safety of the rail system.
Measures include improving the rules and regulations of high-speed rail management, additional training of rail staff, enhancing its ability to deal with emergencies and upgrading its safety prevention.