Shen Mingquan: Anji county will stick to green development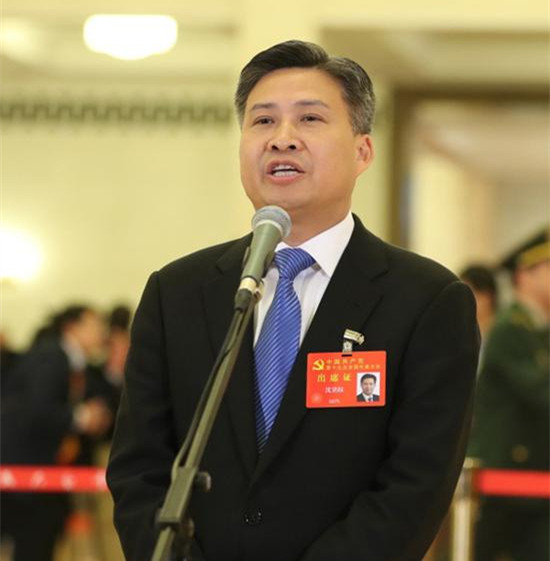 Shen Mingquan, Party secretary of Anji county and a delegate to the 19th CPC National Congress, gives an interview at the Great Hall of the People in Beijing on Oct 18 before the congress opens. [Photo/Xinhua]
Shen Mingquan, Party secretary of Anji county in Huzhou, Zhejiang province and a delegate to the 19th CPC National Congress, shared the county's experience in promoting green development in an interview in Beijing on Oct 18.
Twelve years ago, President Xi Jinping, then Party secretary of Zhejiang, proposed the famous "lucid waters and lush mountains are invaluable assets" theory in Yucun village in Anji. From then on, the county unswervingly has been marching along the path of sustainable development.
Shen communicated with Yucun villagers prior to the congress and found the residents live an abundant and harmonious life there. Moreover, they feel pleased with the well-preserved natural environment.
When asked for details of the practices and experience, Shen made three points. He said Anji is known for its good ecology and the county government has held fast to environmental protection for years. In the process of matching its ecological advantages to the forces of development, Anji insists on green development by greatly promoting environmentally friendly industries like eco-agriculture and tourism. In addition, to enhance the sense of happiness of both urban and rural residents, the government has been devoted to building beautiful countryside to narrow the gap in living conditions between the two groups of people.
"It's a great honor and responsibility for me to attend this historic event," said Shen, hoping the 19th CPC Congress could further promote the green and sustainable development concept.