Code has helped boost country and Party, delegates say
The eight-point code to cut bureaucracy and maintain close ties with the people has changed China greatly and the Communist Party of China has made impressive achievements in its anti-graft campaign over the past five years, delegates to the Party Congress said on Thursday.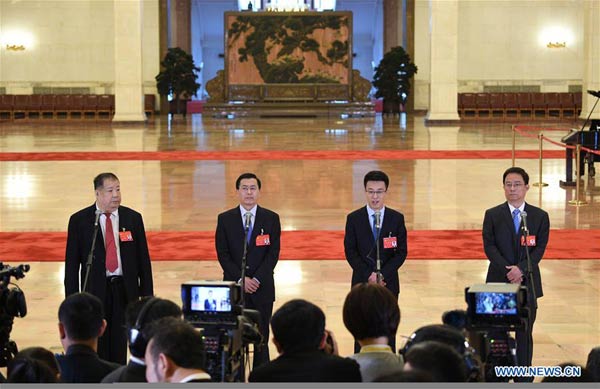 (L-R) Ling Jiefang, Wang Liping, Xu Chuan and Huang Yibing, delegates to the 19th National Congress of the Communist Party of China (CPC), receive interview at the Great Hall of the People in Beijing October 19, 2017. [Photo/Xinhua]
"The 600-word code (introduced in 2012) has influenced the Party, its 89 million members and the whole of society in a profound way..." Huang Yibing, a researcher at the Party History Research Center of the CPC Central Committee, told reporters on the sidelines of the 19th National Congress of the CPC.
"With the implementation of the eight-point code, we all feel that the working methods and attitude of Party and governmental organs have improved over the past five years, and helped staff members of these organs stay closer to the people," he said, adding that the code has also allowed these organs to cut expenditure.
According to Huang, the budget of central government departments for receptions, vehicles and overseas trips, also known as "the three public expenditures", kept decreasing from 2012 to 2016.
Meanwhile, with the implementation of the code, discipline inspection and supervision departments, at all levels, have cracked down on corruption and have made people aware of the Party's resolution to strengthen self-discipline, he added.
Wang Liping, deputy secretary of Jiangsu Provincial Commission for Discipline Inspection, told reporters that lasting applause broke out when General Secretary Xi Jinping mentioned the Party's fight against corruption in his report to the congress on Wednesday morning.
"The applause signals not only the recognition of the anti-graft efforts of the past five years, but also the strong hope and support for the efforts in the next five years," he said.
Wang said both provincial and city-level research centers on corruption cases have been set up in Jiangsu province.
"The targets of these centers are to analyze the cause of the cases, find out any loophole with the anti-graft system and then prevent similar cases from occurring by restoring the system and introducing more effective measures," he said.
Ling Jiefang, a popular historical fiction author known for his pen name Eryuehe, said that the Party has done a great job in its anti-graft campaign, compared to any previous era in either Chinese history or the history of any country.
"General Secretary Xi Jinping called on all Party members to continue anti-graft efforts without relaxation in his report on Wednesday and I think further steps should include making the anti-graft system better to adapt to the development of the Chinese society," he said.

Editor's picks