Chinese actress Gong Li deems Golden Horse Award as 'unfair'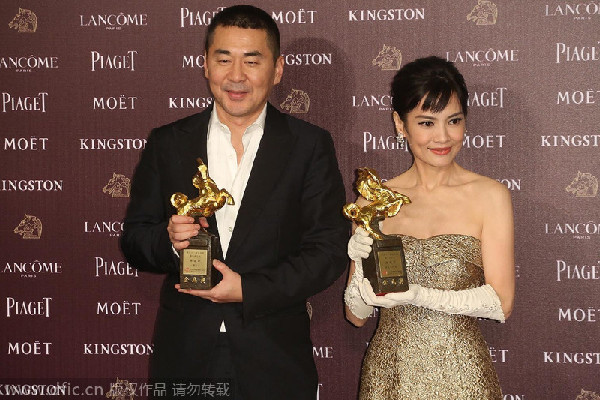 Actor Chen Jianbin and actress Chen Shiang-chyi pose at the 51st Golden Horse Awards Ceremony, in Taipei, Taiwan, November 22, 2014. [Photo/IC]
The results are fair: Golden Horse
The executive committee of the Golden Horse released an official statement last night as a response and said the results are totally fair.
"The judging process and results of the Golden Horse Awards have always been independent, fair and free from any external influences.
Seventeen professionals were selected as judges for this year's festival. The judges must watch all nominated films in designated cinemas. The judges thoroughly discuss each award and votes are casted anonymously.
The winner must obtain more than half of the votes from the judges, and the entire process is monitored by lawyers to ensure fairness."
The committee said the competition for the Best Actress award was fierce this year.
"During the first round and second round of voting, none of the nominees got the majority of votes. Actress Chen Shiang-chyi was voted as a winner for her role in Exit after three rounds of voting."