Baidu Finance targets niche markets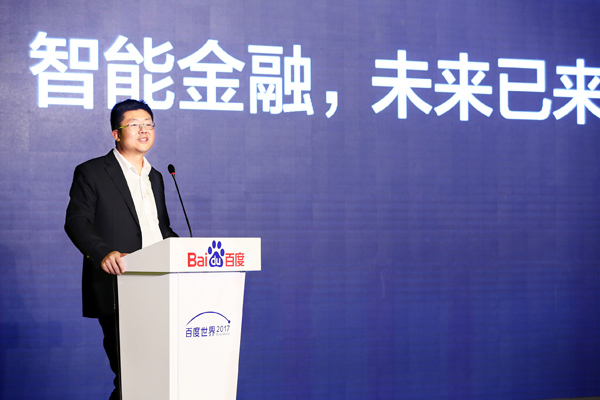 Zhu Guang, vice-president of Baidu, makes a speech at the AI Fintech sub-forum of the Baidu World conference Nov 16, 2017 in Beijing. [Photo provided to chinadaily.com.cn]
Baidu Finance, the financial arm of China's tech giant Baidu, has been leveraging its resources and technologies to meet minority groups' needs for financing or wealth management said Zhu Guang, vice-president of Baidu, at the AI Fintech Sub-forum of the Baidu World conference held in Beijing on Thursday.
Zhu said Baidu Finance has granted a total of 5 billion yuan ($753.9 million) in loans to 380,000 applicants who were disqualified for higher education but have showed their willingness for vocational training, such as English training or IT training.
"It was very hard to cover this group, but Baidu's technologies in anti-fraud and risk control have made this possible," he said, later revealing the loans carry an interest rate of 15 percent.
"They could improve their lives and turn into clients with higher quality," Zhu added.
At the forum, Baidu Finance and the Agricultural Bank of China launched a cash loan called AB loan, with A signifying the bank and B signifying Baidu. Neither party revealed details on the loan.
The year 2018 could be a watershed for consumer finance platforms, as it might see multiple loans, applied for by the same person on different platforms, go sour, Zhu said.
"Platforms with good risk-control capabilities could be differentiated from those without such capabilities this year," he said.
In addition to loans granted for those seeking vocational training, Baidu Finance has also provided parents who are more than 50 years old with relatively high-return yet safe wealth management products, Zhu said. He did not reveal the return rate at the forum.
Zhu said parents above that age generally have inadequate knowledge on wealth management, and these products could be a channel for their kids to communicate with them.
"These two types of products are not profitable, but have brought joyfulness to us," he said.
Zhu also revealed that Baidu Finance, as a third party, has helped companies in need of funds raise 17 billion yuan via the issuance of asset-based securities. Baidu's blockchain technologies could make small-amount and sparsely located assets visible, traceable and unable to be altered, making such securities simpler and more accountable, he added.