China's Fintech contributes to world in technology and business models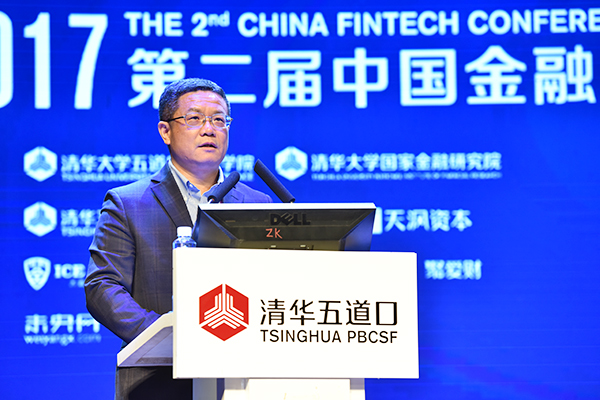 Executive Associate Dean of PBC School of Finance, Tsinghua University Liao Li makes a speech on the 2nd China Fintech Conference in Beijing on Sept 17, 2017. [Photo provided to chinadaily.com.cn]
Since 2013, which is viewed as the first year of the internet finance era in China, Fintech has greatly changed people's life and altered established structures in finance sector.
The EY FinTech Adoption Index 2017 showed that Chinese consumers' Fintech service adoption rate reached 69 percent, well above the global average of 33 percent.
Another report by World Economic Forum said that China's innovation-friendly atmosphere and not consumer-focused traditional finance sector boosted such a remarkable development.
China Daily reporter interviewed Professor Liao Li, executive associate dean of PBC School of Finance, Tsinghua University, and also director of the school's Fintech Lab, which was set up in 2012. Here are the excerpts.
Q: What do you think are the main factors behind the internet finance boom in China in the past five years?
A: There are three driving forces, technology, market and regulation.
First, popularity of the smartphone and development in internet technologies, big data, cloud computing, artificial intelligence and blockchain in China, have provided a technological base for various business models in internet finance and have enabled various products to run smoothly.
Second, with China's economy growing for more than 30 years since the opening-up and reform, the people's disposable income and needs to finance their consumption have both increased. The need of asset allocation have driven sales of financial products via internet and the need of consumer finance have ushered in a large number of online loan and even short-term cash loan platforms.
Small and medium-sized enterprises' difficulty in fundraising has also provided wide room for internet-based micro-loans.
Third, China has been undergoing a series of regulatory changes, including interest rates liberalization and allowing mixed operation in finance sector, similar to what happened in the United States.
In the United States, in 1975, the deregulation of fixed minimum commission at stock exchanges boosted the development of online discount brokers. In 1986, liberalization of interest rates gave a boost to internet banks and the Jumpstart Our Business Startups Act, which was passed in January 2012, also boosted equity crowd-funding.
These changes, combined with the government's long-term support for innovation, especially the mass entrepreneurship and innovation initiative, have jumpstarted the entrepreneurial and innovative activities in the internet finance sector.