Brazilian internet companies seek funds from China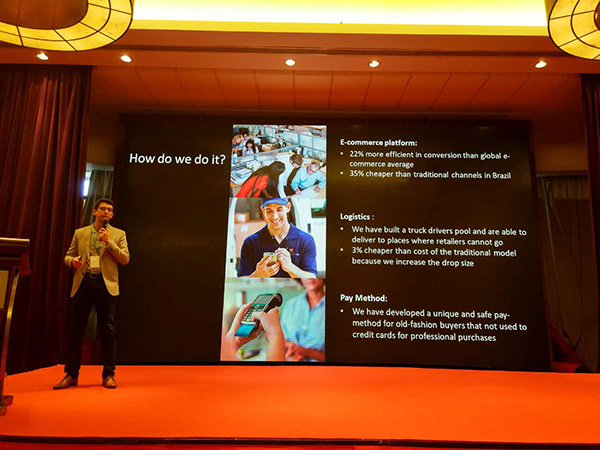 Leonardo Almeida, CEO and founder of menu.com.vc,introduces his company at a roadshow in Beijing on Sept 19, 2017. [Photo by Song Jingli/chinadaily.com.cn]
Thirty-year-old Leonardo Almeida, CEO and founder of menu.com.vc, said his company's vision is to be the top grocery e-business in Latin America.
Menu is like Alibaba for retailers and they are the Didi to restaurants, said the entrepreneur, a dropout of Harvard Business School.
According to Menu's brochure, the B2B company, which connects wholesale food and beverage producers into smaller businesses providing food services, aims to raise $6 to 8 million, 20 percent of which will be used in marketing and 15 percent of which will be used in financial technologies.
In addition, Groupon LATAM aims to raise $25 million and online payment facilitator BestPay wants to raise $10 million.
Online data collector dotz wants to raise $100 million and NI Participacoes SA, a venture capital fund, wants to raise $125 million to invest in current companies or pipeline projects.