Domestic robotic company aims brighter future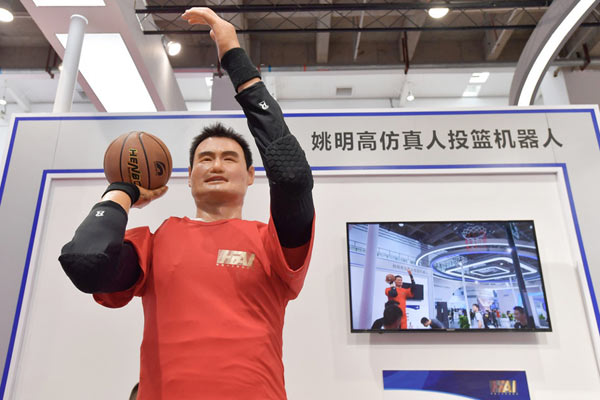 A life-size robot that looks like Chinese basketball star Yao Ming shoots hoops during the 2017 World Robot Conference at Beijing Etrong International Conference and Exhibition Center in Beijing, Aug 23, 2017.[Photo/IC]
A broad range of technology and scientific processes were on show at the World Robot Conference 2017 (WRC 2017), held at Beijing Etrong International Conference and Exhibition Center, which ran for five days from August 23.
A life-size robot replicating the appearance of Chinese basketball superstar Yao Ming, which could shoot hoops, was an invention to lead by example, being one of the most popular robotic displays at the conference.
Zhou Jinting, chairman of Shanghai Hefu Holding (Group) Co Ltd, the company which brought seven robotic displays to the show, said the "Yao Ming" shooting robot achieved a technical breakthrough.
"Many leading foreign humanoid robots can speak like humans and do facial expressions, but few of them can actually make movements like our 'Yao Ming' can," he said during an exclusive interview with chinadaily.com.cn on the sideline of the conference.
He added Chinese robotic companies have also started showing their advantages at this year's show.
"Two years ago, when the conference was held for the first time, we were not confident," Zhou said.
"For us, it was more like an open platform where we could broad our horizon and learn from foreign companies. But since the second WRC, we have achieved more precise positioning of ourselves and become more mature."
Zhou added China's huge market has also given domestic enterprises confidence.
"We've realized we are also leading in some areas, and we have broader applications and products," he said.
"The conference, which is no longer a one-way learning platform, is a chance for us to communicate with foreign leading companies and work together to find a direction for the industry."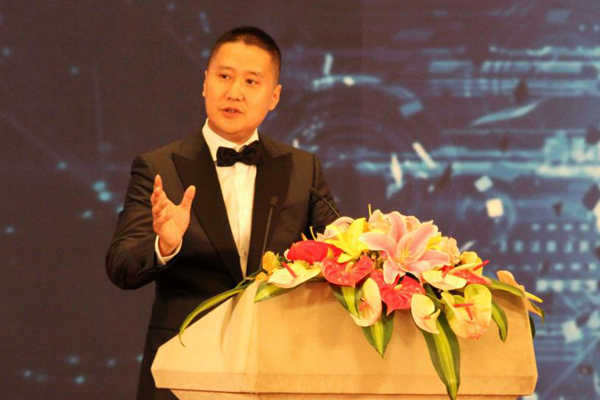 Zhou Jinting, chairman of Shanghai Hefu Holding (Group) Co Ltd. [Photo provided to chinadaily.com.cn]
Weakness and task
Despite the high cost of research and development in robots and artificial intelligence, Hefu has not had much return in its robot business, according to Zhou.
"We can see a few billion yuan a year in revenue from our robot-related businesses, such as smart homes; but the revenue directly from robots is little," he said, adding the biggest threshold in the market was price.
"High costs lead to high prices and a stiff price blocks masses of consumers from buying service robots. However, as long as we rely on expensive imports of core components of service robots, the costs would not be able to be reduced."
Zhou said the prices of some imported core components, such as reducers, are dozens of times more expensive than domestic ones.
"At present, the core components made in domestics are behind imported ones in technical indicators and durability," he said.
"We are trying to solve this problem with our technologies and intellectual property rights, but it takes time and will slow down our industrialization rate."
However, Zhou said he believes bottlenecks can be solved in three to five years as the government has attached great importance to the industry.
"The development of robots and the AI industry needs a good environment of policies, funds and talents, as well as markets," he said.
"Don't think about achieving quick success or getting instant benefits. We can only achieve the industrialization of service robots step-by-step, from the simple and useful products that are affordable and reliable."
Zhou's idea echoes those of Zvi Shiller, chairman of the Israeli Robotics Association, who said the industry needs to start with the small and simple products as consumers lose their patience if robots come too late in the market
In his speech at the main forum of WRC 2017 on Aug 22, Shiller said it was necessary to let people try the small robotic products first, and then small ones can be components of the big and complex ones in the future.
"As every single function becomes mature, a complex function will be achieved; as every single product becomes low-cost, a composite product will cost low. This is the gradual process of robot's industrialization," he said.