Domestic robotic company aims brighter future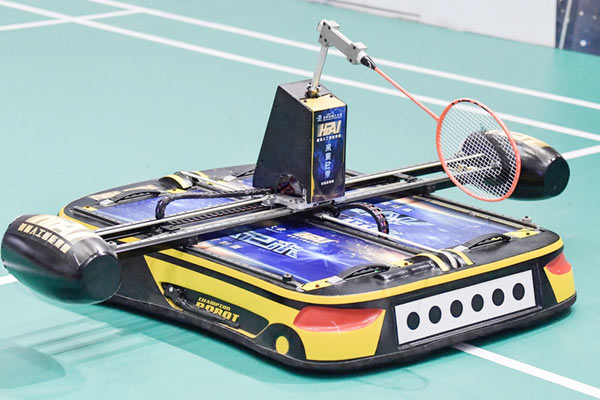 HFAI, a robot of Shanghai Hefu Holding (Group) Co Ltd, plays badminton with a human at the 2017 World Robot Conference at Beijing Etrong International Conference and Exhibition Center in Beijing, Aug 23, 2017.[Photo/IC]
China, the chaser and potential leader
Although his company was in the limelight at the conference, Zhou said the charm of the robotic and AI industry was no one could predict who will be the real giants in the future.
"The industry is new whether in China or developed countries. Everyone, even the global internet giants such as Google, is exploring how to open the market and achieve industrialization," he said.
"With the deepening of industrialization, all companies, present or absent at the conference, have their opportunities."
Zhou added China, having a strong market and improving AI technologies, was both a chaser and potential leader in the industry.
"While developed countries are leading the world in electronic information technologies and robot designs, we have broad applications and market feedbacks in China," he said.
"A big market means enormous vitality, which then enables the industry to adjust orientation and upgrade products according to the real demand."
Just like what has happened in mobile payments and online shopping, Zhou said he believed China could overtake competitors on a bend in the application of an integrated technology of AI, big data and cloud computing.
"For example, one of our core R&D directions is to use AI technologies to solve long-term problems faced by traditional industries, such as coal, chemical, petroleum and construction industries," he said.
"We want the AI technologies to relieve the labor force from dangerous work environments, such as underground work, in the future to achieve production safety."
In addition, the Shanghai-based company has already taken steps to expand global.
At a large wine chateau purchased by Hefu in the region of Bordeaux, France, robots with AI technologies are involved in picking and screening grapes as well as brewing wine.
"There are many kinds of ways for Chinese robotic companies to go global, and the one we adopt is introducing our robots into the properties we purchased in foreign countries," Zhou said.
"It can become our overseas base and serve as an example for other properties."
He added there were two directions for Chinese companies to go global.
"One is to introduce the low-priced robots that have simple but reliable functions to the markets in countries involved in the Belt and Road Initiative; another is to use the high-end robots with price advantages to enter developed market," Zhou said, adding Vietnam will be Hefu's next foreign destination.
Zhou said he expects the robot business to account for more than 80 percent of the company's revenue in three years.