Alibaba banks on cloud computing, entertainment to extend growth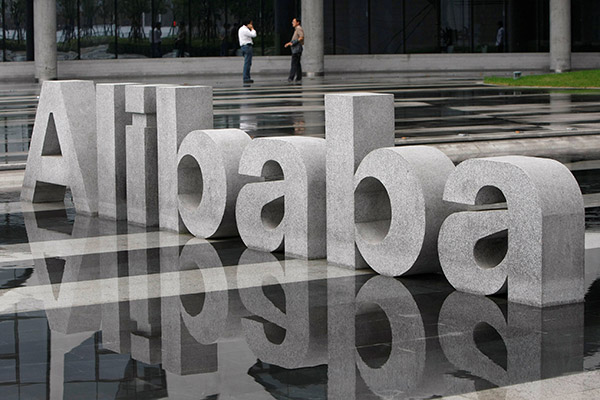 Two men chat beside a logo of Alibaba at its headquarters on the outskirts of Hangzhou, Zhejiang province. [Photo/Agencies]
For every 100 yuan ($14.5) revenue that fell into Alibaba Group's pocket, 15.8 yuan came from its entertainment and cloud services, the e-commerce behemoth's quarterly result showed on Thursday.
Revenue from cloud computing accounted 5.6 percent of the company's total, while its digital media and entertainment business contributed 10.2 percent in the first quarter.
Such results came as Alibaba splurged on the fledging businesses, counting on them to extend its staggering growth.
The company reported a revenue of 158.3 billion yuan in the fiscal year ended in March, increasing 56 percent, and an operating margin of 30 percent. Its full-year earnings per share stood at 16.97 yuan.
"Our core commerce segment continued its significant growth at large scale, enabling our aggressive investment in cloud computing, digital media and entertainment to drive the digital transformation of the economy and high-quality consumption across China," CEO Daniel Zhang said in a statement.
Alibaba reported a 505 million yuan operating loss from cloud computing in the first three months, despite an increasing number of paying customers from 765,000 to 874,000. Revenue from the segment increased 103 percent year-over-year to 2.16 billion yuan.
"Alibaba Cloud's top priority remains expanding its market leadership," the statement noted, adding that the services currently transverse consumer brands, energy, financial institutions, healthcare, manufacturing, media and retail.
The company's shares rose 0.5 percent to $121.27 as of Thursday close.