ITU official vows to boost connectivity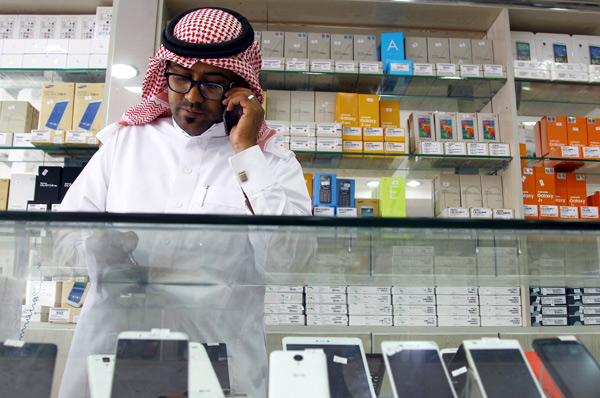 A vendor speaks on his phone at a mobile shop in Riyadh, Saudi Arabia. FAISAL AL NASSER / REUTERS
A top official of the International Telecommunication Union said the Belt and Road Initiative will help promote global digital connectivity, as it builds a platform for cooperation among multiple countries and regions.
"Information communication technology infrastructure requires very significant investment. Through the Belt and Road Initiative, countries and regions can achieve successes on a more significant scale and have a better chance of raising the necessary funds," Zhao Houlin, secretary-general of the ITU, said in an interview with China Daily.
According to Zhao, for an initiative that involves such vast geographic scale, infrastructure will need to be extended across long distances to link countries and cross borders.
The support and engagement of major investors such as the Asian Infrastructure Investment Bank will be critical, which will also help unlock other sources of public and private investment.
The ITU is a specialized agency for information and communication technologies under the United Nations. During the two-day Belt and Road Forum for International Cooperation, which ended on Monday in Beijing, the ITU signed an agreement with the Ministry of Industry and Information Technology to help countries and regions strengthen and interconnect their ICT networks and services.
"With this foundation in place, our expert teams will now work together to develop concrete projects in support of participating countries and regions. We carry out some infrastructure projects as well as training and advising interested countries and regions to help them achieve their objectives," Zhao said.
Members of the ITU recently completed a cycle of studies on key performance requirements of 5G, the next-generation mobile communication technology.
"Chinese companies have been actively involved in the development of these new requirements, and they will be among the players driving implementation of these new technologies," Zhao said.
When it comes to Chinese telecom players' intensified efforts to go global, Zhao encouraged them to continue on this path of international engagement and reaching out to partners in local markets, including small and medium-sized enterprises.