Commercial use of NB-IoT to be boosted in China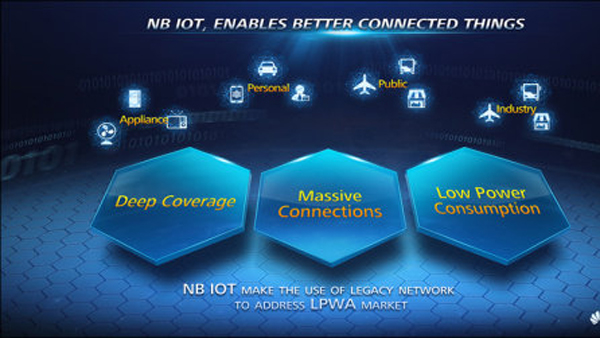 Compared with traditional networks, NB-IoT has a wider coverage range, massive connections and lower power consumption. [Photo provided to China Daily]
The Ministry of Industry and Information Technology announced its decision to speed up the commercial use of NarrowBand internet of things (NB-IoT) in China on Monday, ShangHai Securities News reported.
NB-IoT, a narrowband radio technology designed for the internet of things (IoT), has been developed to enable a wide range of low-power devices and services to be connected using cellular telecommunications bands on the Wide Area Network (WAN).
Compared to Bluetooth and Wi-Fi technology, NB-IoT, having the advantages of low cost, wide coverage, long battery life and enabling a large amount of connected devices, is believed to have great potential in application.
To meet the demands of the application of cellular IoT, the ministry proposed to encourage enterprises to promote the technical transformation of broadband network infrastructure such as fiber broadband and Long Term Evolution (LTE) enhancement, expand the deployment of cellular IoT and accelerate the commercial use of NB-IoT, the report said.
In addition, NB-IoT's commercial use in industrial internet and urban public service and management and its supports for smart factory and internet of vehicles are specifically indicated by the ministry.
Domestic telecom operators have expanded the deployment of network infrastructure under the guidance of the authority, according to the report.
The world's largest NB-IoT will be completed by China Telecom, at the end of June, to achieve the full web commercial use of the end-to-end NB-IoT.
China Mobile, having started outfield test on NB-IoT in Shanghai, Guangzhou, Hangzhou and Fuzhou, is set to a large-scale outfield test validation later and commercialize NB-IoT by 2018.
The report said a number of listed companies have been rolling out the application of NB-IoT.
Viewshine Ltd, a domestic smart metering solution provider, said in April its NB-IoT smart metering had entered the trial stage.
Hangzhou Innover Technology Co Ltd announced in January that the company's first NB-IoT smart gas meter had started trial operation in the urban area of Shanghai. The NB-IoT technology enables the gas meter to upload gas data and real time abnormal running state to backend.
Promoted by the government and boosted by the industry, NB-IoT business's explosive growth is expected to first happen in China, a researcher of China Unicom Labs told Shanghai Securities News.
"IoT will be used in the fields of public utilities and smart city and industries including smart metering, smart parking and intelligent security."
Li Zhenya, an analyst of Zhongtai Securities, said the launch of NB-IoT sets a unified protocol standard for the transport layer and the involvement of operators increases the speed and scale of IoT, which can provide a better material basis for the development of the application layer in downstream.
The full explosion of IoT industrial chain is at the corner, Li said.