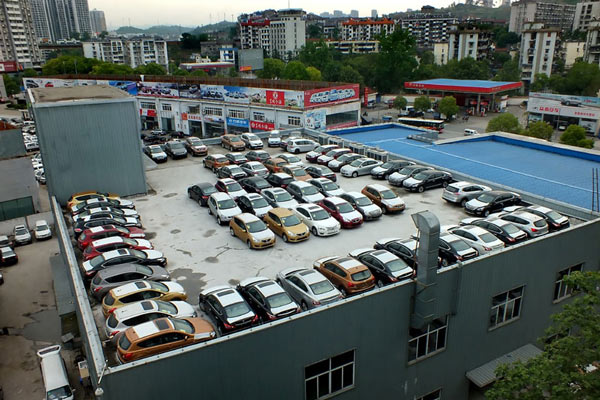 Photo taken on May 4 shows cars illegally parked on the roof of an auto 4s shop building in Yichang, Central China's Hubei province. [Photo/Asianewsphoto]
Real-time information on open slots will increase efficiency, reduce traffic
A technological solution is about to hit the market as the nation's expanding droves of drivers thirst for an upgrade of parking lot capabilities.
Narrow Band Internet of Things, or NB-IoT, is a Low Power Wide Area technology that enables the connections between IoT devices to be faster with wider range than the existing bluetooth and Wi-Fi approaches while at the same time being cheaper and consuming less power.
Shen Zhou, an engineer at the IoT business support center of China Unicom Shanghai Branch, told China Daily the NB-IoT smart parking solution would reduce the cost of building and managing the infrastructure and trunk gateways, which were originally used as data connectors to bridge information between end-user terminal servers and upper servers.
Shen said the traditional trunk gateways were able to manage only a maximum of 10 end-user parking terminals, but the volume could be significantly enhanced thanks to the chip-sets embedded beneath the surface at the parking areas.
He also expressed his optimism about the future implementation of NB-IoT to upgrade Shanghai's public parking lot services. "Following the improvement and utilization of NB-IoT, more public parking facilities are expected to be seen with respondent chipsets embedded into the ground," Shen said.
In addition, some spare enterprise-owned or private parking lots will also be revitalized to participate in the network and enjoy profit-sharing from the business.
Statistics from the local media noted that there are 15 NB-IoT base stations being jointly built by Huawei Technologies Co Ltd and China Unicom at the Shanghai International Tourism and Resorts Zone, providing 334 parking booths that are equipped with NB-IoT chip sets and vehicle detectors. They are aimed at resolving tourists' difficulties in finding parking spaces and relieving traffic pressure.
By connecting the data between individual vehicles and China Unicom's smart parking server on the cloud, end users are able to search for, reserve, navigate and even pay for available parking spaces through an all-in-one app, which can be downloaded to a smartphone.
Zhong Bo, senior developer of Ericsson's R&D North-east Asia, said that the technology allows telecom operators to play a more significant role in the IoT ecosystem and explore more growth areas, by partnering with device manufacturers and industrial users and leveraging existing network infrastructure.
The Sweden-based company has partnered with major international telecom operators to provide NB-IoT infrastructure. It demonstrated the world's first standard NB-IoT connection application at the Mobile World Congress Asia 2016 in July in Shanghai.
"The NB-IoT technology can simplify the deployment of the smart parking solution and easily consolidate information on several different garages/parking lots into a single platform," said Zhong. "This can significantly facilitate the end-users' parking process, and make the management and utilization of the parking area much more efficient."
Zhong said there is no technology obstacle to the development of NB-IoT, but it still takes some time for the modem manufacturers to produce mature standardized chip-sets.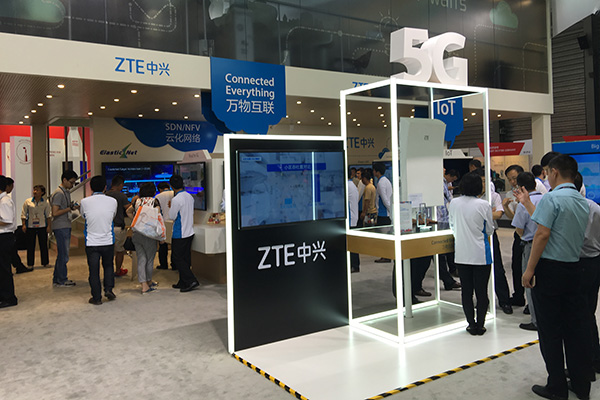 Attendees visit ZTE Corp's 5G and IoT booth on June 30, 2016 at MWC Shanghai. [Photo by Liu Zheng / chinadaily.com.cn]
Ulf Ewaldsson, senior vice president, group CTO and head of group function technology at Ericsson, said the advantages of NB-IoT are that by using the existing infrastructure, such as networks and base stations, the technology will be usable by most telecommunication operators with only software updates and improvements.
He said he believes that the current implementation bottleneck of NB-IoT is the research and development process of chipsets embedded in the associated terminals. But, as more and more countries and regions around the world are being attracted by the tech, chip vendors will accelerate to meet customers' demands.
As one of the contributors to the NB-IoT Standards, another Chinese major telecommunications provider-ZTE Corporation, which also offers end-to-end solutions for operators and the industry, has actively invested in research on chips, terminals, systems and IoT platforms.
The company recently exported the technology to Romania and helped the nation establish its first smart parking lot in the western city of Timisoara.
NB-IoT technology first drew attention from the industry back in March last year, as Vodafone Group Plc together with Huawei demoed a smartmeter application enabled by the technology at the annual Mobile World Congress held in Barcelona, Spain.
Chinese companies Huawei, ZTE, China Mobile and China Unicom, along with other world-leading telecom technology providers and operators, including Ericsson, Etisalat, the GSMA, GTI, Intel, LG Uplus, Nokia, Qualcomm Inc, Telecom Italia, Telefonica and Vodafone, joined the NB-IoT Forum and laid the foundations for a new industry forum aimed at accelerating two ecosystems around NB-IoT technology, including the ecosystem in the telecommunications industry and the ecosystem in vertical market cooperation.
In mid-June this year, the 3rd Generation Partnership Project completed the global standardization of NB-IoT at a plenary meeting in Busan, South Korea.
"The internet of things is considered as an emerging industry with the most development potential due to improved technology achieved in areas such as mobile internet and big data," said Wang Xi, director of the Shanghai Institute of Micro-system and Information Technology of the Chinese Academy of Sciences. "Reliable business models in the IoT market had not appeared until the birth of NB-IoT."
Apart from the smart parking use case promoted as a demonstration of concept, NB-IoT has a great number of applications in the smart city, including environment, traffic, health care and public security.
"As the strategy of 'Made in China 2025' is being pushed further and domestic products replace imported chipsets, the integrated circuit sector will usher in a business of more than 100 billion yuan ($15.15 billion), especially in fields such as NB-IoT and 5G," said Xu Tianshen, senior vice president of global markets of Shanghai-based Semiconductor Manufacturing International Corporation.
Technology research company Gartner Group said it expected 6.4 billion yuan worth of connected devices to be in use next year, up 30 percent from this year, with the figure reaching 20.8 billion yuan by 2020. According to Gartner Group, IoT services spending will grow 22 percent to 235 billion yuan in 2016.
CCID think tank, a consulting institution under the Ministry of Industry and Information Technology, said China's IoT market increased at a growth rate 30.5 percent from 2010 to 2014-growing from 195.8 billion yuan to 567.9 billion.
The organization also expects that the global IoT market will witness 61 percent growth in the next five years and become the largest market for IT equipment and services.