Google bosses meet top Go players in Beijing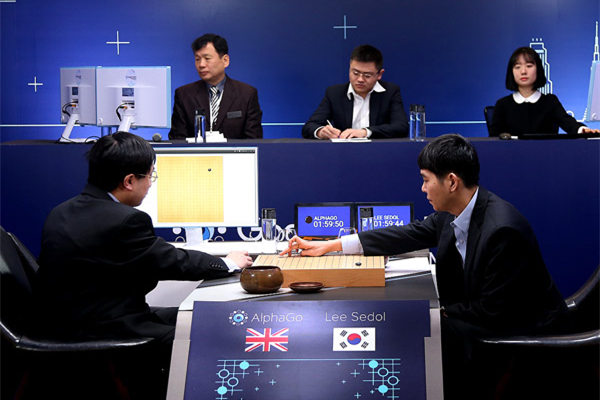 Go player Lee Sedol puts the first stone against Google's artificial intelligence program AlphaGo during the second day of Google DeepMind Challenge Match in Seoul, South Korea, March 10, 2016. [Photo/Xinhua]
Google's top executives have met with China's best Go players, including the current world champion.
Google CEO Sundar Pichai, and co-founder Sergey Brin, who is also president of Alphabet, met some of the board game's best players on Tuesday at the headquarters of the Chinese Go Association.
The weibo account of Google posted several pictures of the meeting that included world champion Nie Weiping and Yu Bin, head of the Chinese Go team.
The visit puts Google's computer program AlphaGo back in the spotlight, and follows an announcement last month from Demis Hassabis, the father of the computer program AlphaGo, that AlphaGo will resume playing early next year.
Hassabis didn't reveal who and where AlphaGo will play.
The program gained worldwide fame when it went head-to-head with South Korean professional Go player Lee Se-dol. AlphaGo won 4-1 in March. Chinese world No 1 player Ke Jie is rumored to be AlphaGo's next challenger. Ke, who is playing a professional game in Guizhou, was a no-show at Tuesday's meeting.
Ke recently said he might not be able to beat AlphaGo.
"I don't think I can beat AlphaGo now," Ke said after he won the Samsung Cup World Open Baduk Championship on December 8. "I need more practice."