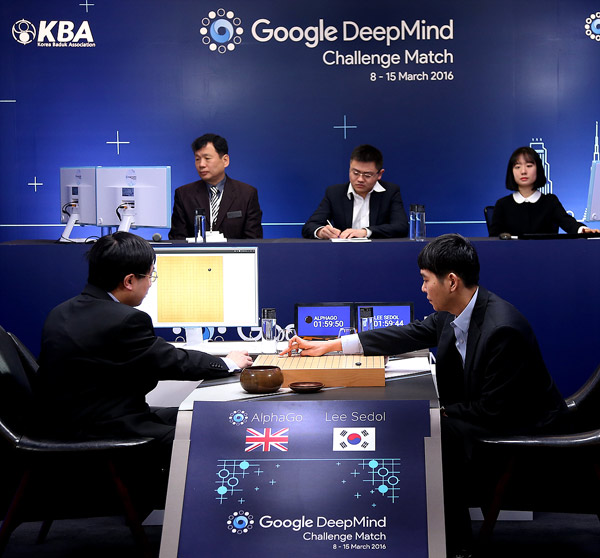 Go player Lee Sedol puts the first stone against Google's artificial intelligence program AlphaGo during the second day of Google DeepMind Challenge Match in Seoul, South Korea, March 10, 2016. [Photo/Xinhua]
Google DeepMind has poured cold water on rumours its AlphaGo Artificial Intelligence Go-playing program will face off against Chinese Go champion Ke Jie.
Deepmind co-founder Demis Hassabis rubbished the claims on Twitter.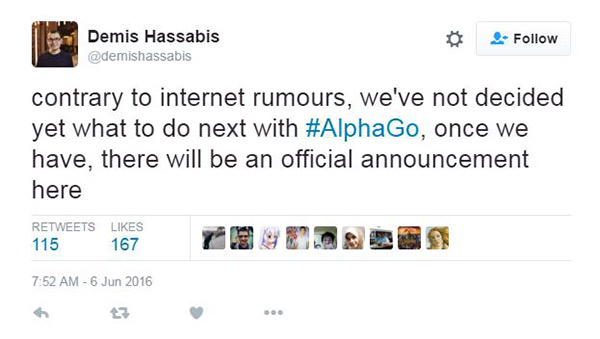 "Contrary to internet rumours, we've not decided yet what to do next with #AlphaGo, once we have, there will be an official announcement here," Hassabis tweeted on Monday.
Currently, Ke is ranked first in the world.
The news was originally released by Yang Junan, secretary general of the International Go Federation, at a news conference for the 37th World Amateur Go Championship, on June 4.
Yang said representatives had been in contact with the team behind AlphaGo and would set up a match by the end of this year.
AlphaGo defeated South Korean Go grandmaster Lee Sedol 4-1 at the Google DeepMind Challenge Match held in March, sparking global interest in AI.
With the sector continuously receiving investment, AI -- as a trend of information technology development -- is becoming a focus in 2016, according to an analysis by Essence Securities Co Ltd.
Global AI revenue is expected to reach 119 billion yuan ($18.1 billion) in 2020, with an annual growth rate of 19.7 percent from 2015 to 2020, according to a report by consulting firm iResearch Co Ltd.
The report also says China's AI revenue is expected to increase from 1.2 billion yuan to 9.1 billion yuan from 2015 to 2020, with an annual growth rate of 50 percent.
According to an internet and AI development guide, released by the National Development and Reform Commission on May 23, China will develop new AI sectors and promote key AI innovation projects in the next three years.
The authority said China's AI market was projected to reach a trillion-level by 2018.
In addition, the Brain Science and Brain-Like Intelligence Technology, which is commonly known as the China Brain Project, has been set up as a key project in the country's national science and technology development plan.
"Research findings of Brain Science will promote the research and development of AI," said Ma Lan, dean of Fudan University's Institute of Brain. Ma believes breakthroughs in this field will lead a new round of technological revolution.
Chinese tech giants, including Baidu Inc, Tencent Holdings Ltd and Alibaba Group Holding Ltd, along with startups such as Megvii Technology Co Ltd, have been actively making efforts in the AI sector, according to iResearch.
Having invested 7 billion yuan in the research and development of its AI products since 2014, Baidu has launched its virtual assistant Duer and established an unmanned vehicles division.
Alibaba has introduced DTPAI, the first AI computing platform of its kind in China. The AliRobot Platform successfully predicted the final result of a variety show called I am a singer.
Tencent established its Intelligent Computing and Search Lab, while also opening its visual recognition platform, Youtu.