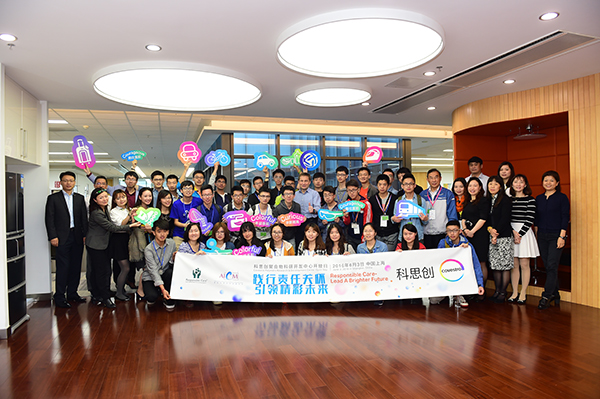 Open day group photo
Leading materials supplier Covestro pledges to embrace "responsible care" by inviting university students to its Asia Pacific Polymers Research and Development Center (PRDC) on June 3 through an Open-to-public Day initiative, preparing future industry elites with knowledge on innovation and sustainability in the chemical sector.
Themed "Responsible Care: Lead a brighter future", the event responds to an industry-wide initiative to consolidate its commitment to being a source of industrial solutions to societal challenges and contributing to economic, social and environmental development in China.
Student and teacher representatives in material sciences subjects from eight universities in Shanghai took this opportunity to engage with company executives, scientists, as well as human resources experts, raising questions on company strategy, material development, and career tips to work in a diversified multinational corporation such as Covestro.
"Under the new company name Covestro, we aim to guide the way to more sustainable solutions for China and the world, leveraging innovative technologies and solutions," said Dr. Christian Haessler, Head of PRDC and Innovation in APAC.
Giving a retrospect on company history, Dr. Haessler presented a handful of novel products adopting Covestro's cutting-edge materials, including a metal-like sheet made of carbon-fibre polycarbonate composite with lighter weight, and polyurethane pultrusion technology for window frames with better insulation properties. Such innovative solutions are substantially changing people's lives while cutting energy use to a great extent, he noted. Innovation does not stop at materials application, Dr. Haessler added. It also extends to manufacturing procedures as well as business models in a bid to raise efficiency and stay agile to better serve customers. Through these efforts Covestro is truly bringing to China the idea of "to make the world a brighter place".
Following Dr. Haessler's speech, Dr. Zhou Zhiping, Head of Open Innovation, Innovation Asia Pacific, Covestro, brought fresh insights to students on innovation process in a complex business environment. Linda Liu, Director of Product and Technical service, Business Unit Coatings, Adhesives and Specialties, Covestro APAC, also a seasoned employee at Covestro, shared her views on career development. Discussions were pushed to a new height after students had a tour around the innovation hub where students gained a more comprehensive understanding of Covestro'sR&D efforts and the three company core values: Curious, Courageous and Colorful.
"This event is a clear demonstration of how Covestro, as a world-leading materials manufacturer, values innovation and sustainability as it seeks to offer solutions to tackle various global challenges. It brings together future industry leaders and sets as a role model for other players in the industry in terms of corporate social responsibility," said Wang Lingling, Deputy Secretary of the Party Committee, School of Materials Science and Engineering, Tongji University.
"I am thrilled to be here today to see so many state-of-the-art technologies and applications from Covestro. The event also offers me an opportunity to observe how a world-class enterprise operates,"said Wu Yiyang, a sophomore student from East China University of Science and Technology.
Covestro (formerly Bayer MaterialScience) is one of the signatories of the Responsible Care Beijing Manifesto, an industry-wide initiative promoted by Association of International Chemical Manufacturers (AICM) since 2008. The Open Day provides a great opportunity to share Responsible Care practices and is also a response to the call from AICM.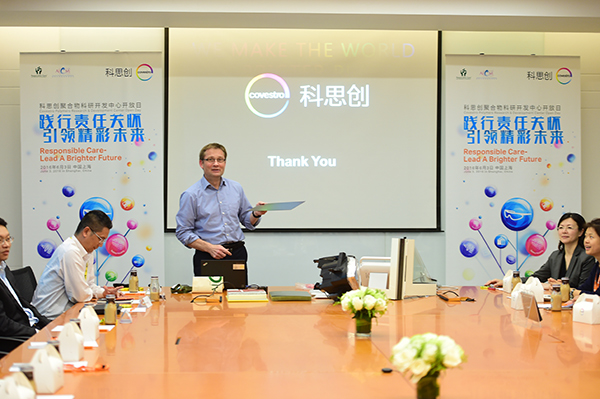 Dr. Christian Haessler introduced products adopting Covestro's innovative technologies