Now, UnionPay slips through barcode for payments pie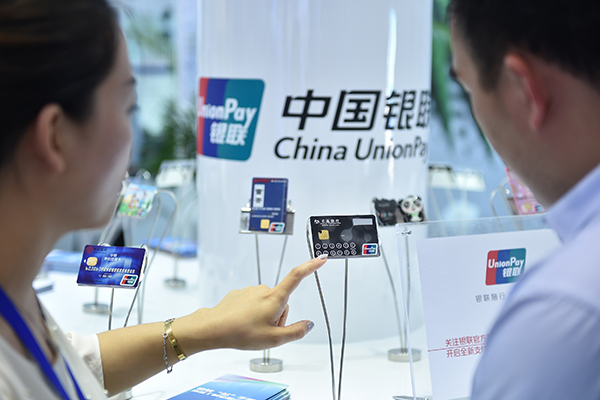 A UnionPay employee introduces new bank card services to a visitor at a show in Beijing. [Photo/Xinhua]
China UnionPay, the national bankcard association, launched on Monday its own app and security standard for two-dimensional barcode payment.
It thus joined existing players Alipay and WeChat Pay in the internet-based mobile payments segment.
Song Hanshi, general manager of UnionPay's technology department, said it will adopt unified technical solutions to achieve interconnectivity among different financial institutions and to ensure consistency in user experience.
Currently, commercial banks have their own two-dimensional barcode payment apps and UnionPay hopes to promote the use of barcodes across different banks.
It will also apply token technology to protect sensitive account information from leaking and to ensure payment security.
The bankcard association is working on risk control standards for two-dimensional barcode payments and will launch its own product in this area, according to Cai Jianbo, first executive vice-president of China UnionPay.
Zhao Yao, a special research fellow at the Institute of Finance and Banking at the Chinese Academy of Social Sciences, said: "This is an important measure taken by UnionPay and commercial banks to deal with competition from third-party payment institutions, in terms of retail payment, as small merchants have become increasingly unwilling to use POS (point-of-sale) machines due to higher bankcard swipe fees."
He said that UnionPay is likely to replicate its existing offline rules on bankcard fees, merchant administration and risk management, and apply them online.
"Whether or not it will succeed in the market is hard to say, considering that Alipay and WeChat Pay have taken a dominant share of the market. Not to mention that these two payment service providers can provide more payment scenarios through e-commerce, social networking and vertical applications than UnionPay and commercial banks," he said.
Wang Pengbo, a senior analyst with Analysys, a Beijing-based provider of big data analyses, agreed.
In e-commerce and social networking, Alipay and WeChat Pay definitely have an advantage now, he said.
"With UnionPay and its member institutions gradually expanding their market share in this field, the competition based on consumption scenarios will grow more intense," Wang said.
He noted that the UnionPay standards will also promote the protection of personal information and money security.
Fan Feifei contributed to this story.