China's UnionPay Intl, France's Louvre Hotels Group sign deal on payment card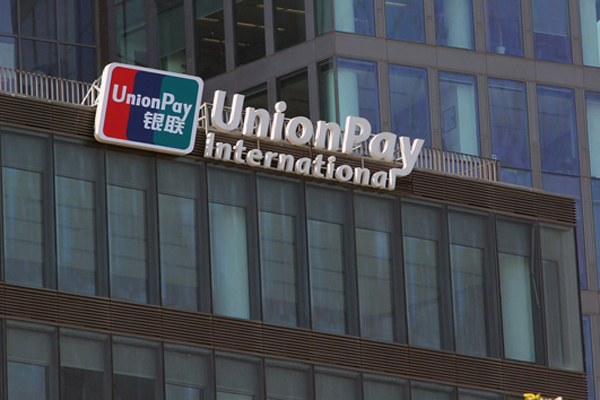 A logo of UnionPay is pictured on its headquarters building in Shanghai, May 6, 2014. [Photo/IC]
PARIS - UnionPay International, a subsidiary of China UnionPay, said Tuesday it had signed an accord with France's largest hotel group, Louvre Hotels Group, regarding the use of UnionPay cards to facilitate Chinese visitors.
Under the agreement, 23 hotels in the French capital managed by the Louvre group and which are the most visited by Chinese tourists will accept payment via UnionPay card from Nov 22, a move which "will substantially improve tourists' payment experiences at the local hotels," the Chinese company said in a statement.
"The acceptance scope will be further expanded to 500 franchised hotels in France" and "will serve as a good model for other European hotels," it added.
UnionPay is making great efforts to improve its acceptance network and services in France together with its partners, according to Ge Huayong, chairman of China UnionPay.
"We will promote further cooperation with Louvre Hotels Group to cover its stores worldwide, in order to provide more convenient and high-quality services to cardholders, as well as to bring more customers to the group's hotels, and thus realize a win-win result," Ge said.
For his turn, Pierre-Frederic Roulot, president of Louvre Hotels Group, called the deal "a strategic cooperation," which will allow the group to improve its service quality, especially for Chinese tourists.
Louvre Hotels Group owns six major hotel brands, including Campanile, Kyriad, Golden Tulip and Royal Tulip. It has more than 1,100 hotels across 51 countries and regions.
In France, cardholders are able to pay with UnionPay cards at 110,000 merchants, including department stores, duty-free stores, airport stores, brand stores, restaurants, and hotels.
According to official data, China was France's biggest tourist market in 2015, with 2.2 million visitors numbered over the period.