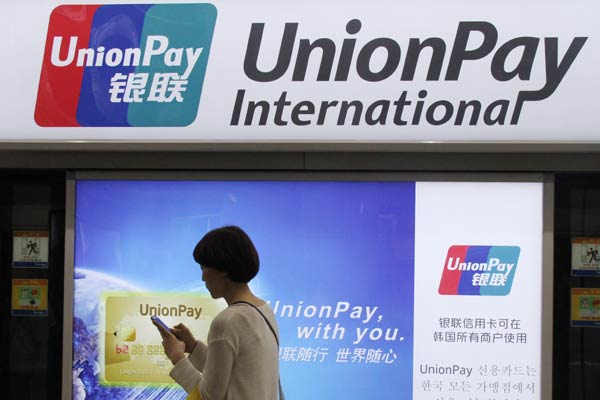 A logo of UnionPay in Seoul, South Korea. [Photo/Xinhua]
UnionPay International Co Ltd, a subsidiary of China UnionPay, signed a chip card standard licensing cooperation agreement with six member institutions of Asian Payment Network (APN) on Wednesday, signaling a new breakthrough in the globalization of China's financial technology standards.
With the cooperation, the major switch networks in Singapore, Thailand, South Korea, Malaysia, Indonesia and the Philippines will adopt UnionPay chip card standard in card acceptance and card issuance.
The agreement will help to promote the payment industries in these markets to upgrade from magnetic stripe cards to chip cards, and paves way for the roll-out of UnionPay contactless, mobile and wallet payment products in these markets.
Fan Yifei, vice-president of the People's Bank of China, said: "China's payment industry is expanding and growing rapidly, and it is playing an increasingly significant role in promoting e-commerce, enhancing financial inclusion, meeting consumers' diverse demands and fueling economic growth."
"APN members' adoption of UnionPay chip card standard means that the bank card services provider's technology has been recognized by the international market. The cooperation also helps promote the upgrading of digital payment industry in these countries and regions."
He added that UnionPay and other institutions should maintain good contacts with these markets and offer excellent services to ensure the successful landing of these projects.
Currently, UnionPay acceptance network operates in 160 countries and regions, and 40 of those have issued UnionPay cards. While promoting cross-border businesses, the company is also endeavoring to explore new expansion models and to accelerate the localization of its business outside of Chinese mainland.
Ge Huayong, chairman of China UnionPay, said: "Since 2014, UnionPay has taken active part in the construction of financial infrastructure in many Asian countries. This agreement signing with APN members will help realize the interconnection among payment networks in the Asia Pacific."
"It will also serve the financial exchanges between these countries and regions, and facilitate residents in the region to make cross-border payments, and promote the expansion of chip card-based innovative payment products such as UnionPay mobile QuickPass in the region."