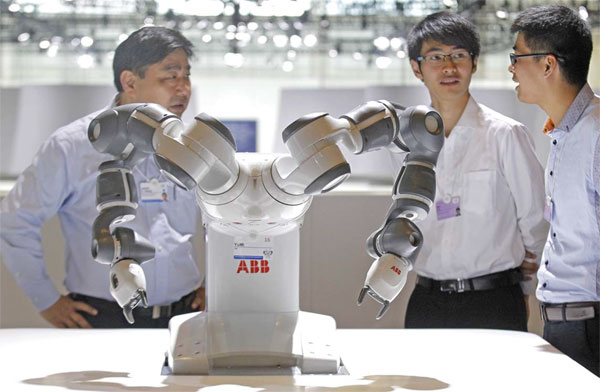 A robot that can write with its hands is displayed at the Summer Davos Forum in Tianjin on June 26, 2016. [Photo by Zhu Xingxin/China Daily]
The annual output of the robotics industry in Tianjin is expected to be worth 12 billion yuan ($1.8 billion) by 2020, with the total number reaching 60,000 robots, according to the Tianjin Municipal Commission of Industry and Information Technology.
An underwater robot made by a Tianjin company to clean the bottom of ships has attracted a lot of attention after it won a prize at an innovation contest last month.
"The working efficiency of the underwater robot could be enhanced by three times compared with manual work. The robot can be widely applied to large ships, propellers and precision instruments for offshore exploration," said Zhang Yang, general manager of Tianjin OSTAR Underwater Vehicles Co Ltd.
The company has received orders from China National Offshore Oil Corporation and China Shipbuilding Industry Corporation, Zhang said.
It is expected that annual sales of the robot will reach 16 million yuan, accounting for 80 percent of the firm's total yearly sales, Zhang added.
At present, the scale of robotics industry in Tianjin has reached 3 billion yuan, and there are more than 100 robot production companies, with a capacity of more than 1,000 robots.
Traditional labor-intensive companies are introducing robots to lower labor costs and develop the high-end manufacturing industry. A unit of Markor Furniture Group, which is located in Tianjin Economic and Technological Development Area, estimated that it cut labor costs by 50 percent with the application of robots.
"The robot industry in Tianjin is to be a new springboard for economic growth based on the advantages of a strong local industrial foundation," said Li Chaoxing, director of the Tianjin Municipal Commission of Industry and Information Technology.
Contact the writers at fanfeifei@chinadaily.com.cn and zhangmin@chinadaily.com.cn