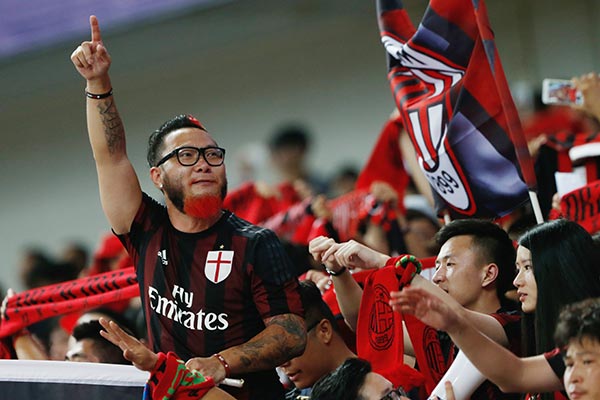 Fans of the AC Milan soccer club at a contest between the team and Real Madrid in Shanghai.A Chinese consortium signed a preliminary deal for a 99.93 percent stake of AC Milan this August. [Photo provided to China Daily]
Chinese companies should adopt a long-term investment approach and have a thorough understanding of soccer before they invest in overseas clubs, according to insiders.
"Investing in European soccer is not all about pushing around money," said Xie Liang, a veteran soccer commentator with Radio Guangdong.
Xie's remarks came after Italian third-tier league club AC Pavia, which was bought by a Chinese investor in 2014, recently went bankrupt.
Chinese businessman Zhu Xiaodong bought all of the shares in AC Pavia in July 2014, promising to bring the club with a history of over 100 years back to the Serie A, Italy's top league, within five years and build a new stadium for the club through big investment.
But Zhu announced a withdrawal of investment before the new season in August as he reportedly claimed the club's business had been greatly affected by the club's Italian managers.
"Most Chinese investors don't have management experience of soccer clubs before their decisions on investment. That's why they will face difficulties in cooperation with overseas managers," said Xie.
AC Pavia was unqualified to take part in the new season due to the club's losses, while some players and club managers filed lawsuits against it over delayed salaries, according to local media reports.
According to a report by Bloomberg, the Hong Kong-listed Tech Pro Technology Development Ltd, which now owns of Sochaux-Montbeliard, faced bankruptcy proceedings, as the company's share price has fallen 92 percent since July.
"We don't understand why a Chinese company with poor business performance bought a European club, which is also suffering big losses," said Zhang Qing, chief executive of Beijing-based Key-Solution Sports Consultant Co.