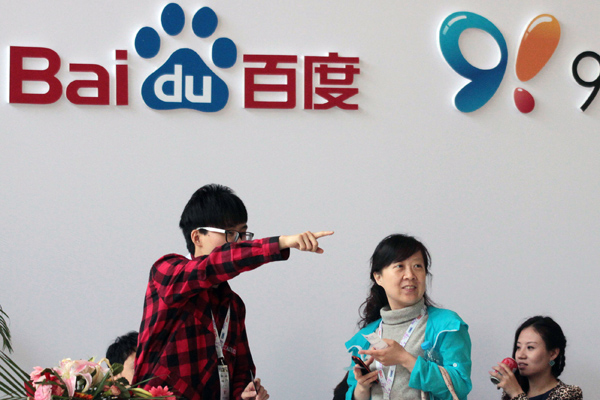 Baidu Inc's stand at an industry expo in Beijing. [Photo by Wu Changqing/For China Daily]
Baidu Inc said on Wednesday that it has established a multi billion-dollar investment fund, a move to help the company obtain promising internet assets, an area in which the Chinese online search giant trails behind its rivals.
The fund named Baidu Capital with a war chest of $20 billion yuan ($ 3 billion) will focus on investing in mid and late-stage deals in the internet sector. Investments can be in both yuan and US dollars, with investment projects ranging from $50 million to $100 million.
Nasdaq-listed Baidu said that the fund receives investment from diversified backgrounds, including several insurance funds and securities firms.
Industry insiders said that the establishment of the fund is Baidu's latest effort to boost its investment, a signal that the company has placed more emphasis on acquiring technology and knowhow to jumpstart its slowing search and advertising business, which has been constrained by tighter government controls on online advertising.
About a month ago, Baidu announced the launch of a $200 million venture capital firm focusing on investing in early-stage projects in artificial intelligence and other next-generation technologies.
Lu Zhenwang, an internet expert and the chief executive officer of Shanghai-based Wanqing Consultancy, said Baidu urgently needs to find new growth points to cope with the slowing momentum of its traditional search business.
"Investing in companies outside Baidu can help it branch out its business. It is already slow in terms of making investment compared with the other two internet giants," he said.
Data from Fellow Plus showed that since 2011, the top three internet companies-Baidu, Tencent Holdings Ltd and Alibaba Group Holding Ltd-have made a total investment of 415 billion yuan in China. However, Baidu seems the most conservative in terms of investment. It invested in 93 projects compared with Tencent's 305 projects and Alibaba's 171 projects, according to public information on itjuzi, a site focusing on providing internet investment related data.
The search giant has the lowest market value among China's top three internet companies and its net income for the quarter ending June 30 fell 34.1 percent year-on-year as it faced increased regulation in the healthcare sector and on internet advertising.
But Yin Sheng, an independent analyst who has followed China's internet industry for years, said it is a wise move for Baidu to gear up its investment. "It would be wrong not to spend money to invest in the future," he said.