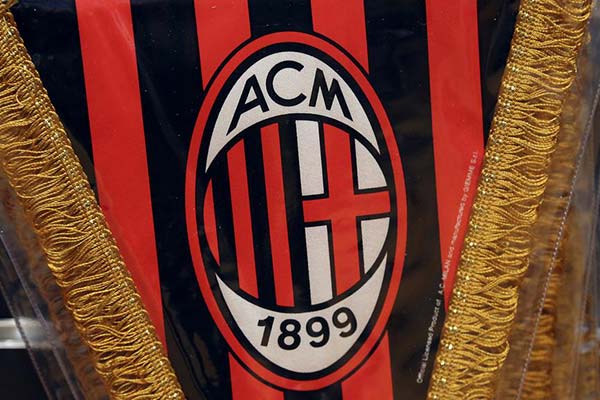 The AC Milan logo is pictured on a pennant in a soccer store in downtown Milan, Italy April 29, 2015.[Photo/Agencies]
A Chinese consortium has signed a preliminary deal for a 99.93 percent stake of Italian Serie A soccer club AC Milan, according to Fininvest, the holding company headed by former Italian prime minister Silvio Berlusconi.
The agreement, signed on Friday after weeks of negotiations, values AC Milan at 740 million euros ($818 million), including an estimated debt of approximately 220 million euros.
The investors operate through the management company Sino-Europe Sports Investment Management Changxing Co, chaired by Li Yonghong, who is the main sponsor of the investor group.
The consortium, represented by businessman Li Han, also includes Haixia Capital Management Co, the State Development & Investment Corp and other State-controlled entities active in the financial industry and other sectors.
The agreement requires the Chinese investors to spend 350 million euros over three years to improve AC Milan's financial structure.
The deal also requires the investors to deposit 100 million euros to confirm the commitment.
The final contract will be completed by the end of the year, subject to the obtaining of authorizations from Italian and Chinese authorities.
"During the entire negotiation process, Fininvest has always had the objective to provide AC Milan, through an appropriate ownership structure, with greater financial resources to compete with the top football clubs of the world," the holding company said in a statement.
Berlusconi reportedly made up his mind to sell and on Friday called the Chinese side to his villa in Sardinia, where they signed the agreement.
AC Milan will join a long list of European soccer clubs that have received Chinese investment in recent years. They include Atletico Madrid, Espanyol, Manchester City and Aston Villa.
Additionally, Chinese electronics retailer Suning Commerce Group Co bought nearly 70 percent of AC Milan rival Inter Milan for 270 million euros in June.
Xinhua contributed to this story.