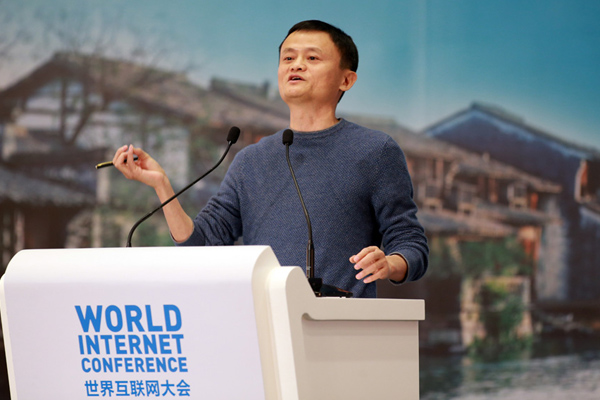 Jack Ma, founder of Alibaba Group, speaks at the Second World Internet Conference's closing ceremony in Wuzhen, East China's Zhejiang province, Dec 18, 2015. [Photo by Zou Hong/chinadaily.com.cn]
A number of leading technological achievements will be unveiled at an annual internet conference held by China next month, in a bid to encourage innovative contributions in cyberspace, an official of the national internet watchdog said on Wednesday.
The release is scheduled in the afternoon on the opening day of the Third World Internet Conference, which will run from Nov 16 to 18 in Wuzhen, a historic town in Zhejiang province, Ren Xianliang, deputy director of the Cyberspace Administration of China, said in a news release.
"The achievements cover top theories, technologies, products and services in cyberspace from home and abroad, and it is the first time that we have held such an activity," Ren said.
Since early September, more than 400 achievements from more than 300 businesses and academic institutions from around the world have been submitted to the conference as candidates, such as the Chinese Academy of Sciences, Microsoft and IBM.
"A panel of well-known scientists and entrepreneurs is selecting and reviewing these candidates, and will make a final recommendation in line with their significance and influence," he said.
A statement from the administration said that it would invite some innovators to attend the conference and show their products or services on the opening day to the public, while some outstanding achievements will be also shown via video.
Ren said that he hopes the release of these innovations can contribute to building cyberspace-related think tanks among governments and businesses.
Ning Jiajun, a senior researcher at the Advisory Committee for State Informatization, echoed him, saying that it was an opportunity to highlight the country's open attitude and ideas on governing cyberspace.
"We can learn how to develop the internet through innovation, and the activity will be also a platform for us to increase international communication on how to solve internet-related problems, such as cyber attacks and crimes, at the same time," Ning said.