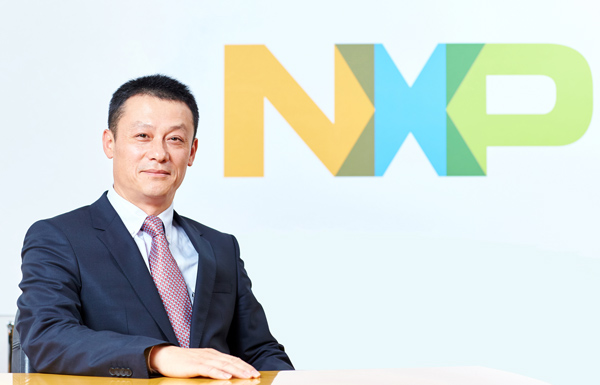 Zheng Li, NXP's senior vice-president and China CEO. [Photo provided to chinadaily.com.cn]
"Tap-to-pay" is set to become new favorite as Apply Pay, Samsung Pay, Mi Pay and Huawei Pay have launched it in sequence to rival the nation's mobile payment market.
Taking Mi Pay, introduced by Chinese smartphone maker Xiaomi in its new flagship Mi 5, as an example, although the Near Field Communication (NFC) solution provided by NXP Semiconductors remains at the early stage for extensive adoption, the collaboration has shown the company's customer-oriented localization strategy and the ability to resources integration
Being one of the main driving forces behind the scenes of the NFC and secure element solutions, the Dutch manufacturer's technologies are optimally designed to address specific transit use cases and ensure a seamless consumer experience using augmented Radio Frequency performance and security.
Zheng Li, NXP's senior vice-president and Greater China president, sat down with China Daily to call for more cross-border collaborations between upstream and downstream of the supply chain in the semiconductor industry and elaborate on the implementation footprints of NXP's localization strategies.
"By 2020, the shipment volume of smartphones with NFC function will reach to 2.2 billion units," said Zheng, citing statistics from market consulting institute IHS Technology.
According to Zheng, the fundamental drive to push the implementation of NFC technology is from the continually increased demand of the mobile Internet users who require upgraded technologies, better usage experience and privacy protection.
"As of 2015, the market scale of China's third-party mobile payment reached 16.36 trillion yuan ($2.51 trillion), and people have gradually got used to use mobile devices, rather than PC or laptop, to purchase goods," said Zheng. "While more challenges pop up for mobile carriers as the increase of user base and data security issues."
As a leading technology provider in China's Automatic Fare Collection market since its rollout in the 1990s, NXP has been driving the migration from card to mobile.
"Thanks to our industrial globalization, we will provide more high-end international resources and technologies to jointly work with smarphone makers, mobile carriers and banks to promote the usage of NFC," Zheng added.
It is reported that there are currently 400 million transit cards in circulation in China, and many card holders are expected to transition to more convenient and secure payment solutions, such as mobile payments via smartphones.
China's mobile transaction market has seen robust growth in recent years. According to People's Bank of China's statistics, 4.5 billion mobile transactions worth 18 trillion yaun ($2.76 trillion) occurred in Q3 2015, up 253 percent and 194 percent, respectively. As China continues to urbanize over the next decade, the market for smart payment technology in urban transit systems is expected to rapidly increase.