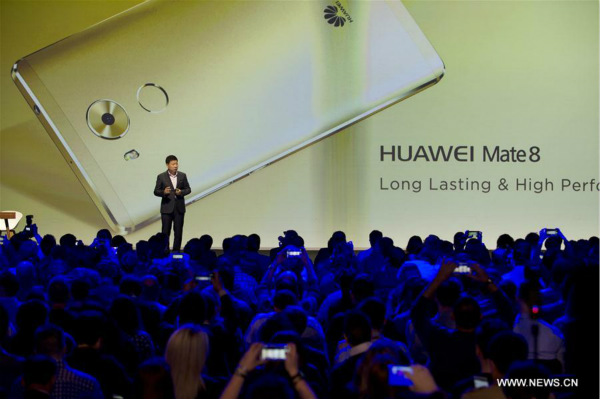 Photo taken on Feb 21 shows the Huawei press conference held on the eve of the official start of the Mobile World Congress (MWC) in Barcelona, Spain. [Photo/Xinhua]
MADRID -- Chinese telecommunications giant, Huawei, aims to share its vision of a connected world during the four days of the Mobile World Congress (MWC) which opened in Barcelona on Monday.
Throughout the exhibition, the company will be demonstrating its commitment to a "ROADS" experience -- Real time, On demand, All online, DIY and Social -- by focusing on specific strategies and technologies to support digital transformation.
"In a fully connected era, rapid digital transformation is critical for all industries. Changes in the ICT industry are the main driving force behind business development in the digital era." said Zou Zhilei, president of Carrier Business Group, Huawei on Monday.
"As a key enabler in the ICT industry, Huawei is committed to helping the telecom industry and vertical industries digitize their infrastructure, operational systems, and business models with state-of-the-art technology," Zou noted.
He added the company believed in an "an open digital ecosystem," saying it was "strategically important to the industry's future."
"In the pursuit of openness, collaboration and shared success, we will continue to expand our business partnerships, make greater contributions to the industry, and partner industry players to create Open ROADS to a better connected world through successful digital transformation," said Zou.
Many Huawei executives are expected to give keynote speeches during the MWC.
The company has a major exhibit at the MWC where it is showcasing many products and solutions such as Ubiquitous Ultra Broadband, GigaRadio, 4.5G, Connecting Giga World, IoT (internet of Things ), Video Everywhere, Cloud Business and solutions for Safe Cities.