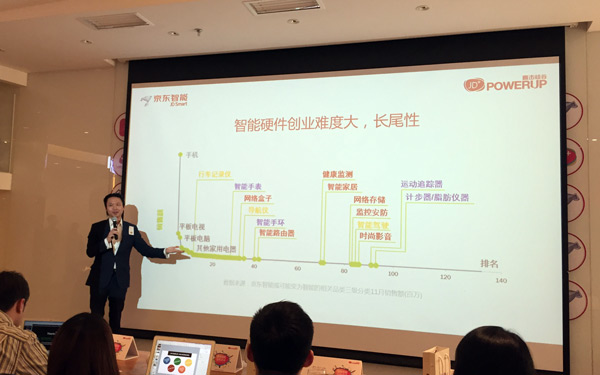 Leslie Liu, vice president of JD Smart, delivers a keynote speech on Jan 13, 2015 during the launch event of the company's overseas hardware startup incubator program.[Liu Zheng/chinadaily.com.cn] 
A hardware incubator program that targets overseas technology startups was announced on Wednesday by JD Smart International (JDSI), a business development department of smart hardware eco-system provider JD Smart.
PowerUP, the program is affiliated with "JD Plus", a project of Chinese e-commerce behemoth JD.com that since February 2014 has provided integration resources services for hardware enterprises.
"PowerUP is a go-to-market program that targets overseas hardware startups with products at the ready-to-ship stage," said Leslie Liu, vice president of JD Smart.
JDSI will provide four distribution platforms for the partners who join the program, including an online community built for product trail subscribers, an online launch platform that debuts news products, a crowdfunding platform and the online shopping mall, JD.com, Liu said.
"It links overseas entrepreneurs with domestic investments and helps them to reach Original Equipment Manufacturer (OEM) and Original Design Manufacturer (ODM) resources and set up networks," Liu added.
With domestic investments, supply chain resources, and 100 million active buyers on JD.com, the company aims at linking overseas technology entrepreneurs to build brand awareness and distribution channels for their products.
"We've been collaborating with leading US tech accelerators, including Techstars and Hax, to introduce competitive products built by startups in the Internet of Things (IoT) industry into the Chinese market," said Ken Lin, director of JDSI.