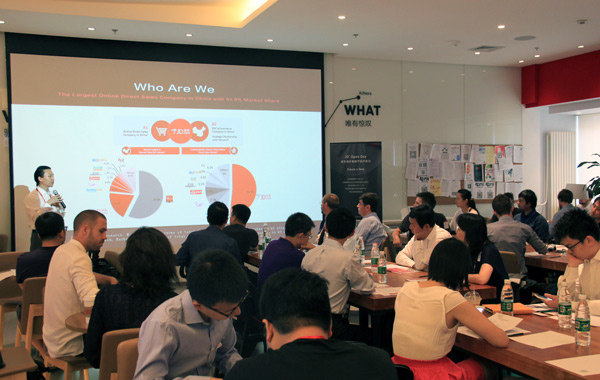 Leslie Liu, CTO of JD Smart, delivers a keynote speech on August 20, 2015 during the JD+ Open Day held in Beijing.[Photo provided to chinadaily.com.cn]
China's growing demand for smart hardware triggered the enthusiasm of foreign developers entering the competitive market here.
JD Smart, a smart hardware eco-system provider backed by Chinese e-commerce behemoth JD.com, held an open house on Thursday for 20 overseas technology start-ups from seven countries to demonstrate their crowd-funded products at its Smart Milk Tea Café, a business incubator.
It was the first public event to showcase the company's international business strategy which is to be a bridge to link overseas entrepreneurs with domestic investments, supply chains and distribution channels and target consumers. JD Smart aims to integrate resources in the smart hardware sector, bring services to hardware corporations in different development stages and establish a smart hardware eco-system.
Smart hardware that raised funding on well-known crowdfunding websites Indiegogo and Kickstarter include the Sinister Interactive Gaming Device, which is the 2014 CES Design Innovation Award winner; the Luuv camera stabilizer, which won the ISPO Award Product of the Year 2015/2016 and head mounted display XiONVR, which is one of the Best of CES 2015. Their representatives were among those at the event.
"Chinese are getting more interested in filming as the shipment of smartphones and HD cameras is rapidly growing in the country, so I think the customers here will be interested in our products," Felix Kochbeck, CEO of Luuv, a German camera stabilizer maker, told chinadaily.com.cn. The product is priced at 99 euro ($111), which is 70 percent cheaper than its domestic competitors sold in the Chinese market.
Luuv is an electronic camera stabilizer for action cameras and smartphones that enables amateur video filmmakers to capture shake-free footage. Kochbeck hopes that his company, which has been raised $100,000 on Indiegogo and will launch on Kickstarter for funding next month, will have further cooperation with JD Smart to reach more potential Chinese customers.
"By comparison with the saturated market in the US and Europe, China is a big, growing market for us. Our business started with the 3D market here, and is expanding ... there are lots of systems installed in cinemas in China and Chinese are getting more interested in 3D," said David Chechelashvili, executive vice president of business development of XPAND, a virtual reality headset producer based in Los Angeles. He brought a head-mounted display named XiONVR, which raised funding on Kickstarter. The first entry-level products will be accepted for pre-orders in this September.
"The development future of the smart hardware industry are open-minded, communication and integration and JD Smart will hold more events to attract more overseas industrial partners to step into the Chinese market," said Leslie Liu, CTO of JD Smart.
"JD+, a project operated by JD Smart, and the eco-system based on it, will provide tremendous support to accelerate the business expansion of overseas start-ups in China, establish brand awareness and accelerate the landing and promotion of their products," said Lucus Wang, CEO of HWTrek.
HWTrek organized the event with JD Smart. It is a Taiwan-based platform that connects hardware startups with manufacturers and other resources.
The firm recently scored $4 million Series A funding in June, led by WI Harper and ITIC.
JD.com, Legend Star Capital, the investment arm of Lenovo's parent company, Legend Holdings, and Japanese venture capital firm Global Brain also participated in the funding.
Xi Yuxiang, associate at IDG Capital Partners, pointed out that JD Smart has not only provided a opportunity for start-up entrepreneurs, but also presented a solution for matching entrepreneurs with investors, and accomplished a win-win venture capital funding business.
The Smart Milk Tea Café, on Beijing's Zhongguancun Entrepreneurship Street, is a business incubator for launching new products and operating road shows. JD Smart opened the store in May.
According to China Daily, the country's smart hardware market saw 280 percent growth in 2014.
"JD Smart will continually improve its eco-system to improve the smartware globalization across borders," according to a company statement. "As of June 30, over 90 percent of JD crowdfunding projects have been successfully financed, including over 100 projects above the 1 million-yuan level."
As of June 30, 2015, JD.com operated 166 warehouses in 44 cities and a total of 4,142 delivery stations and pickup stations. Its delivery network covered 2,043 counties and districts.