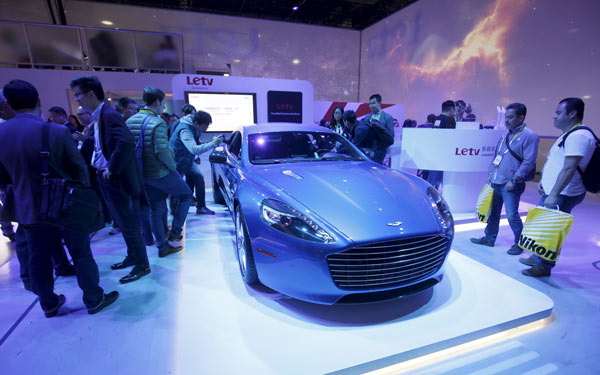 People look over a 2015 Aston Martin Rapide S in the LeTV booth during the 2016 CES trade show in Las Vegas, Nevada January 8, 2016. LeTV designed the Internet of the Vehicle system for the sports car company.[Photo/Agencies]
"We are not excluding the possibility that assembly lines and R&D department will be built in India in the near future," said Mo. "We'll bring our innovative business models, including sales model such as customer planning to customer (CP2C), to the Indian market."
According to local media reports, LeEco has started sending media invites for an event on January 20 where the company is expected to launch its first phones in India.
Shine at CES 2016
During this year's International Consumer Electronics Show (CES) held in early January in Las Vegas, FFZERO1, a concept vehicle that debut at the event by Faraday Future, an electric automobile startup backed by LeTV, was nominated by US tech site Digital Trends as the Top Tech of CES 2016 Award in the automobile section.
"The almost alien-like supercar concept would be capable of 1,000 horsepower if it were produced, with the ability to leap to speeds beyond 200 mph. Off the line, it would take under three seconds to spring from 0 to 60," said the website.
Another top gear, a 3.9mm-thick Super 4 Max65 Blade smart television, which it is calling the world's thinnest TV by the company, was also unveiled at the show.
World's leading live streaming cloud platform
Currently, Le Cloud, the cloud computing department of the company, has established a US-based R&D center and built 650 content delivery network nodes around the world, as well as 15Tbps bandwidth, which is enable 4K and H.265 web-casting to feed the increasing demand of high quality videos for users.
The company also claims that it provides world's number one cloud platform for 360 degree virtual reality live broadcast service.
According to Jia, the company is planning to establish another 200 nodes in India and open cloud platform, user interface design and mobile application design to users and developers in India.
Eyes on Sino-US co-productions with Hollywood
Zhang Zhao, CEO of Le Vision Pictures (Beijing) Co Ltd, an affiliate of LeEco, one of the nation's largest film production and distribution companies, also made a speech during the new logo announcement event.
Zhang introduced that the company plans to release 20 movies, 13 Sino-US coproduction films and 30 self-made Internet dramas this year, with the aim of seizing a piece of the country's video market share.
"Turn all the moviegoers into Internet video viewers -- that's what we are going to pursue for the next three or five years," said Zhang.
Le VP has aimed to create a platform for both China and the US, the world's two largest consumer markets, as the studio combines film-equity investments, Chinese distribution and global-production capabilities, said Zhang.
One of them is The Great Wall, the highest-budget US-China coproduction film to date, directed by Zhang Yimou and starring Matt Damon, with Legendary East and Universal Pictures.
With a more than 1.8 billion yuan revenue in the first three quarters, the overall subscribers who pay membership fees of Le VP have surpassed 12.2 million.