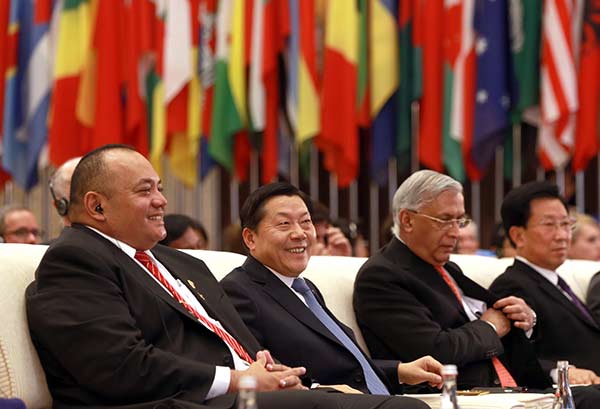 Lu Wei (second left), director of the Cyberspace Administration of China, Siaosi Sovaleni (left), deputy prime minister of Tonga, and Shaukat Aziz (second right), former prime minister of Pakistan at the closing ceremony of the Second World Internet Conference in Wuzhen, Zhejiang province, on Dec 18, 2015.[Photo by Zou Hong/China Daily]
The Second World Internet Conference ended on Friday with industry leaders calling for concerted global efforts to boost Internet usage and governance.
The Wuzhen Initiative, based on the discussions with a wide cross-section of industry experts, is the latest effort by the international community to reach a broad consensus on issues that are confronting the booming sector.
Howard Michel, president of the Institute of Electrical and Electronics Engineers, said: "Discussions during the past three days have yielded significant results. It will certainly help us to find solutions and create a framework for Internet governance.
"Technology must ensure that the Internet continues to develop and add value. But technology alone not enough and we need policymakers to find solutions that offer quick fixes," said Michel.
As one of the members of a high-level advisory body to the conference, he also highlighted the importance of global participation in Internet governance.
The initiative, released by the conference's organizing committee, comes against backdrop of Internet making significant advances in global connectivity. But its rapid development has also posed challenges to countries' sovereignty, security, and sustainable development.
Fadi Chehadé, president of the Internet Corporation for Assigned Names and Numbers, said some conflicts are emerging between the Internet and existing international systems and laws.
"The Internet respects no borders and its impacts are global. The real issue is to find common ground between the Internet and existing regulations. This is a big problem and we do not have any answers," Chehadé said.
"We need to innovate and govern the Internet with technological innovation and new approaches. The Wuzhen Initiative is certainly a good step in this regard," he said.