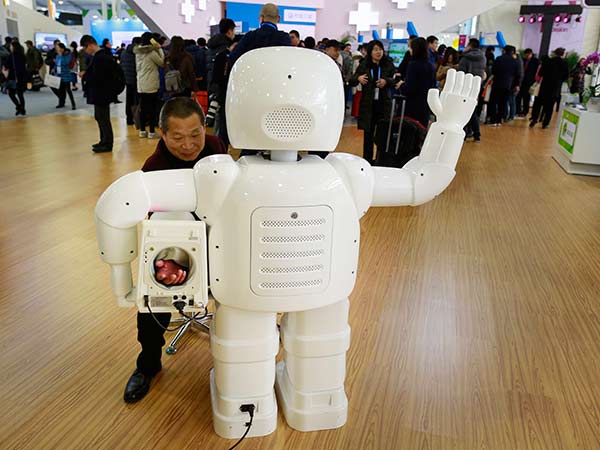 A visitor checks his blood pressure with a robotic device at the "Light of the Internet" Expo in Wuzhen, Zhejiang province, on Dec 17, 2015.[Photo by Zhu Xingxin/China Daily]
Fancy your own robot at home, responding to your every need, even talking to you during lonely nights? Not a problem.
At this week's "Light of the Internet" Expo in Wuzhen, Zhejiang 71 Technology Co was offering just the thing.
Armed with more than 100 sensors, the company's 80-centimeter-high robot can respond to orders given by sound or touch.
"It can help you control home appliances, tell stories, look up weather reports and many other things you need it to do," said Chen Keding, the firm's deputy manager.
"The sensors also allow it to figure out the actions of stroking, slapping or pushing and respond properly."
Apart from these home services, the new robots can also be applied to other environments and duties, like those in a hotel or a hospital.
"If you put it in a restaurant, it will find the most suitable seat for clients using data such as the number of people arriving and their seating temperature preference," said Chen.
"It can be your usher, waiter or cashier."
Yang Jianli, the general manager of Wenzhou Tianshang Electronic Technology Co, had also watched the robot in action, and was impressed.
"I believe this kind of multi-functional robot is likely to be a key area of expansion for the Internet industry," he said.
What makes Zhejiang 71's invention even more impressive, is the company was previously a traditional garment manufacturer.
But sensing the importance of moving up the value-added chain, Chen said it decided to try and insert high-tech elements into its items, and things just went on from there.
"While we were producing the high-tech garments, I realized a lot could be done easier with the help of a robot. This is what inspired me," he said.
He started developing the robot in 2010 with a group of engineers he had gathered from well-known universities from home and abroad, who developed all the robot's functions themselves.
"That's the power of the Internet era - turning a traditional manufacturing company into a member of the smart generation," he said.