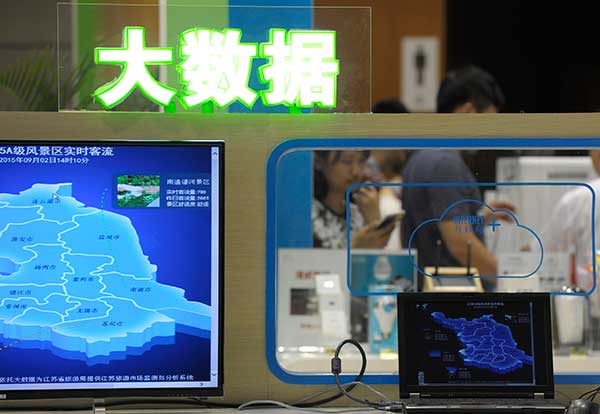 The Internet Plus and big data application booth at an industry expo in Nanjing, Jiangsu province.[Photo/China Daily]
Cloud computing will become even more important in the next few years and create new growth opportunities for companies, experts said.
Shi Lirong, president of telecoms firm ZTE Corp, said one of the reasons why big firms have not embraced cloud technologies that easily is due to the security vulnerabilities. To address this, cloud-computing providers must come out with business models for various companies, including large, small and medium-sized enterprises and individuals.
Though cloud computing has the potential to be the "new normal" of the information technology industry, it is still in early stages. China's public cloud services market value is expected to reach 1 billion yuan ($154 million) by the end of this year, but the investment by service providers would be nearly five times that, said experts.
Chinese companies should not be disheartened about this as the situation is more or less the same everywhere, said Alex Yung, executive director of AWS China.
Chen Liming, chairman of IBM greater China, said that estimates from a recent survey of 257 companies showed that only 47.7 percent of the Internet companies have used cloud services, while the rate among traditional companies as well as SMEs was 15.6 percent and 25 percent, respectively. Cloud penetration rate among large companies is even lower, said Chen.
"Cloud computing is nothing like a race. We should look into the industry from a higher perspective and create an ecosystem which will bring benefits for all. Cloud-computing technologies should be applied in the daily management of cities to avoid deadly disasters," he said.
But there are enough indications that the situation is changing. Data provided by the China Academy of Telecommunication Research shows that the compound average annual growth rate of China's cloud service market was around 35 percent in the past three years. The growth rate is expected to reach 46 percent this year, while the total market value may exceed 10 billion yuan.
What's more, large companies are sure to use cloud services in the highly competitive market to attain faster development at lower costs. Even though there are security concerns about cloud services, its inherent advantages will help it grow by leaps and bounds, said Tan Xiaosheng, vice-president of Qihoo 360 Technology Co Ltd.