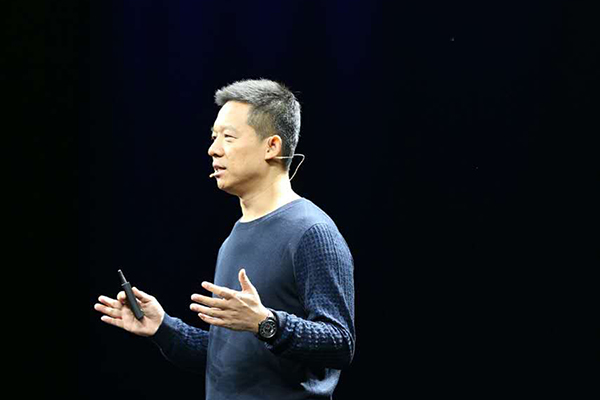 Jia Yueting, founder and CEO of LeTV Holdings at a press conference on October 27, 2015. [Photo provided to chinadaily.com.cn]
China's Internet company LeTV Holdings will release its first electric vehicle at the Beijing auto show in April 2016, targeting the booming new-energy auto market.
The company's first electric vehicle, called Mule Car, has completed testing in the US and a small scale trial production is on the horizon, said Ding Lei, co-founder of LeTV's car division Le Auto, at a press conference in Beijing on Oct 27.
Ding, a former vice president of State-owned automaker SAIC Motor Corp, said Le Auto has more than 700 employees worldwide, with 400 of them based in the US.
LeTV said that it has formed a partnership with Aston Martin, the British premium car brand that's most associated with James Bond, to explore opportunities in the electric car industry.
The Internet company made public its car-making plans earlier this year. It has big ambitions in the new-energy vehicle industry, which is being encouraged by the central government to cope with China's air pollution.
LeTV is already a large shareholder of Atieva, designer of models such as the Tesla Roadster, Audi R8eTron and Chevrolet Volt.
In early September LeTV became a major investor in a new-energy vehicle charging station producer as part of its green auto campaign.
Beijing Dianzhuang Technology Co, a startup that builds and rents charging posts, said it has received "tens of millions of yuan" from LeTV, although the investor did not disclose a specific investment amount.
In the first nine months, China sold 136,733 new-energy vehicles, a 230 percent surge year-on-year, according to statistics from the China Association of Automobile Manufacturers.
LeTV has also released a premium smart television and an inexpensive smartphone, targeting China's new rich and tech-savvy young users.
Jia Yueting, founder and CEO of the Beijing-based Internet company, unveiled a 500,000 yuan 3D TV that is more than 2 meters tall and 1.5 meters wide.
"It is ideal for the rich guys in China," Jia said on Tuesday, adding that users will receive a number of content services, such as blockbuster movies free of charge.
The 120-inch screen is as big as more than 70 iPad Pros put together. The Chinese company said it is the biggest 3D TV commercially available in the world.