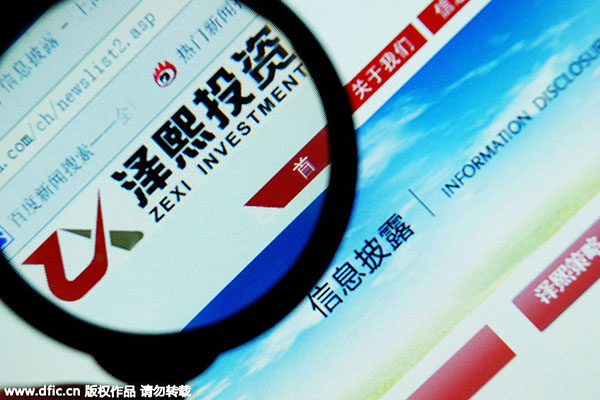 BEIJING - Xu Xiang, general manager of the Shanghai-based company Zexi Investment, is under investigation for suspected insider trading, the Ministry of Public Security announced late Sunday.
Xu and several others allegedly obtained inside stocks information via illegal methods and participated in insider trading and manipulating stocks prices, a ministry statement said.
The suspects have been placed under coercive measures, which include summons by force, bail, residential surveillance, detention and arrest.
In a separate probe, police have netted three suspects and is seeking to arrest more overseas for pocketing huge funds via manipulating futures trades, the Ministry of Public Security announced Sunday in a statement.
Authorities locked onto "Yishidun," an international trade company founded in 2012 in east China's Jiangsu Province, in July when looking into fluctuations in the country's securities and futures markets that led to huge losses for many investors.
The company was jointly invested by two Hong Kong-based companies respectively set up by Georgy Zarya and Anton Murashov, both of foreign nativities.
Gao Yan, general manager of the company and one of the arrested, alleged that the company used a software developed by Murashov and a foreign technical team to automatically buy and sell in huge quantities in prices far deviated from market standards and illegally pocketed more than two billion yuan ($316 million) with this method.
Citing investigation results, the statement said that the accounts used by the company traded so fast in June and July when the market experienced severe fluctuations that as many as 31 futures contracts were purchased in one second.
The accounts controlled by the company achieved a net profit of over 500 million yuan from early June to early July alone, it said.
"The company's trade activities deteriorated the fluctuations in daily trade prices... and affected then market trade prices and normal trade orders," the statement cited supervisory authorities as saying.
Further investigation revealed that Gao later transferred nearly 200 million yuan out of the illegal profits to Murashov and others overseas via underground banks.
As instructed by Zarya, Gao also sent more than one million yuan to Jin Wenxian, a technical supervisor with a futures company who helped Yishidun cover up trade details, use the software undetected by authorities and transfer funds, according to the statement.
While Gao, Jin and Liang Ze, another senior executive of Yishidun, have been arrested, the case is still under investigation and the ministry vowed to enlist the help of foreign authorities to net overseas suspects.