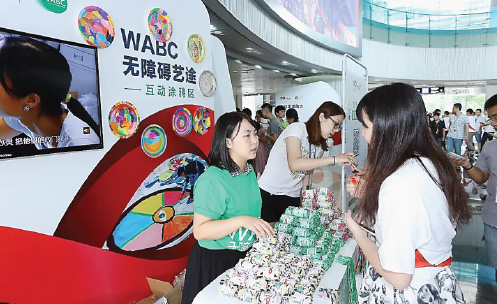 A Tencent employee, and charity supporter, explains to a visitor how to take part in Tencent's program. [Photo provided to China Daily]
Internet giant launches drive to encourage people to donate to poor
Internet giant Tencent Holdings Ltd has launched a charitable initiative which is calling on people from across the country to donate to the needy.
Starting from Monday and running through Wednesday, Sept 9, the "9.9 charity day", initiated by the Shenzhen-headquartered company, was established with the aim of helping those in need using the Internet via WeChat and quick response codes.
By Wednesday morning, the amount of money received had reached 100 million yuan ($15.87 million) by 1.37 million donors.
"Our vision is to promote a society that is filled with goodwill and trust," said Chen Yidan, founder of Tencent, as well as founder and honorary chairman of the Tencent Charity Foundation.
In the Internet era, Chen said, charity has become something that is accessible to all people. "Hundreds of thousands of ordinary donors are both initiators and communicators of charity. We want to gather power from every person to push forward the charity cause in China," he told a news conference held in Shenzhen.
In the first eight months of this year, approximately 500 million yuan of donations were raised through Tencent charitable platforms, almost five times the amount gathered in 2014. The number of individual online donations has reached roughly 36 million.
Guangzhou taxi driver Chen Chunjing was one of the beneficiaries of Internet charity. In April, his 3-year-old daughter suffered from serious anemia and he urgently needed 500,000 yuan to pay for her medical costs.
"I was really worried about whether my daughter could be cured as our family could not afford the high medical costs," Chen said. "Thanks to the online charitable platform, I was able to pay for my daughter's operation."
Guo Kaitian, senior vice-president of Tencent and chairman of the foundation, said the Internet is changing the concept of philanthropy in China.