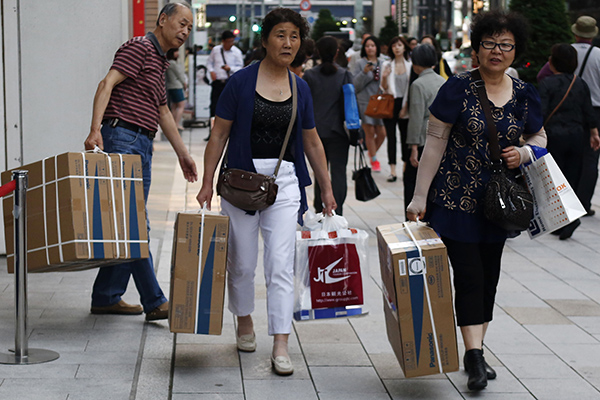 Chinese tourists carry packages of Panasonic Corp's products along Tokyo's Ginza shopping district. [Photo/Agencies]
Tencent Holdings Ltd is bringing its mobile payment services to Japan in a new push to tap into the growing purchasing power of Chinese outbound tourists.
Starting Sept 30, Chinese travelers can use WeChat payment services to buy products at eight Daimaru Matsuzakaya department stores in Japan, according to a statement from J. Front Retailing Co Ltd, the parent company of Matsuzakaya.
Users can pay bills by scanning the quick-response codes on WeChat, the most popular messaging application in China, which boasts of 600 million regular users.
Because of the influx of Chinese tourists, the sales volume of duty-free items in Matsuzakaya stores more than quadrupled from March to August this year, compared with the same period a year earlier, according to a report by the Japanese business newspaper Nikkei.
Data from Japan's transportation ministry show that in the second quarter, visitors from the Chinese mainland made more than 1.25 million trips to Japan and spent nearly 18 billion yuan ($2.8 billion).
Tencent's move is part of its broad efforts to expand mobile payment services into overseas markets. In July, the company said it would partner with more than 10,000 Japanese stores to offer Chinese travelers WeChat payment services within three years.
Alibaba Group Holding Ltd, a major rival of Tencent, is also beefing up efforts to boost the international presence of its mobile payment tool Alipay. The e-commerce giant is offering similar services at more than 30,000 stores in South Korea, Hong Kong and Singapore, and plans to expand the figure to 1 million within the next five years.
Analysts said the intensified push by Internet companies is directly taking on China UnionPay, the country's largest bank card processing provider.
But "it is difficult for Internet companies to crack the niche", said Sandy Shen, research director at Internet consultancy Gartner Inc. "China UnionPay has a sprawling presence in overseas markets."
As of 2014, China UnionPay has covered more than 150 countries, where over 13 million stores accept consumer payments through bank cards issued by the company.
"The attraction of mobile payment platforms will hinge upon their penetration rates. If Alibaba and Tencent can't cover as many nations, it will be difficult for them to challenge UnionPay's dominance," Shen said.
Ma Ke, a 29-year-old travel enthusiast, agreed. "It is more cool and convenient to use WeChat and Alipay. But I won't use them if they are limited to a few stores."
Hao Zhujing, an analyst at the Beijing-based Internet consultancy Analysys International, said: "For most consumers, scanning the smartphones is not neessarily convenient than swiping cards. The key is in cultivating users' habits by launching large-scale promotions."
Ma Si contributed to this story.