Compared with the rapidly spreading footprint of e-shopping in cities, China's rural areas remain e-commerce backwaters due to a lack of infrastructure, while market potential has stimulated new entrants.
Named Dian Dou, or diandou8.com, a new e-commerce website aiming to help rural residents purchase agricultural materials and sell agricultural products was launched at Beijing's Great Hall of the People on Thursday.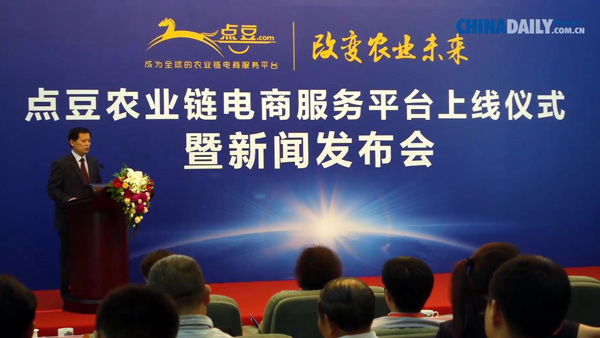 Xue Feng, mayor of Lan Ling county, Shandong province,delivers speech on May 21, 2015 at the launch event of Dian Dou rural e-commerce platform held at Beijing's Great Hall of the People. [Liu Zheng/chinadaily.com.cn] 
The government of North China's Lan Ling county and Internet company Dian Dou Online Technology Ltd jointly established the platform, described as the first online trading portal specifically built for domestic farmers, said a company statement.
"The Dian Dou platform was created in response to the country's 'InternetPlus' scheme, a strategy introduced by Premier Li Keqiang in March to integrate Internet-related sectors," said Xue Feng, mayor of Lan Ling county, Shandong province.
According to Xue, the e-commerce website will help residents in the countryside with costs of agricultural materials, broaden the entrepreneurial channels and ease financing difficulties.
The website will also build "smart agriculture" service warehouses in every single village that operate its service to assist pick-ups and last-minute deliveries.
By comparison, this online to offline business model will reduce more than 20 percent costs for rural residents in purchasing agricultural materials, such as seed, chemical fertilizer or farm machineries, said the company.
The company has also worked with the country's General Administration of Quality Supervision, Inspection and Quarantine to select and monitor the merchants joining the platform.
According to the company, the website has received a 2 billion yuan ($322.8 million) in first-round investment and the staff and delivery vehicles have the ability to cover nearly 10,000 "smart agriculture" service warehouses and 100 counties have been fully prepared for launching the service.
As China aims to foster new growth in the countryside, rural e-commerce development will be a top focus this year. E-commerce not only provides rural residents with much easier access to products, but has also become an important channel for the sale of produce, said the Ministry of Agriculture (MOA) earlier this month.
The MOA pledged to build a unified, orderly rural e-commerce market and efforts will be made to strengthen resource sharing, financing and credit system services.
Rural online transactions reached more than 100 billion yuan last year and are expected to hit 460 billion yuan by 2016.
According to previous Xinhua News Agency, China vowed on Wednesday to invest more than 430 billion yuan this year and more than 700 billion yuan in total in 2016 and 2017 to increase Internet speed and expand broadband access in rural regions.
It said China will accelerate the building of high-speed broadband networks and improve Internet access in more than 14,000 villages by the end of this year.