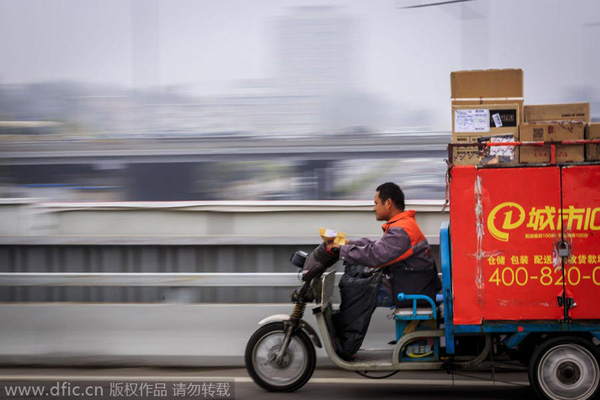 A courier en route to deliver packages in Beiing, Oct 11, 2014. [Photo/IC]
BEIJING -- Rural e-commerce development will be a top focus this year, as China aims to foster a new growth pillar in the countryside, the Ministry of Agriculture (MOA) said on Friday.
E-commerce not only provides rural residents much easier access to products, but has also become an important channel for the sale of produce, the MOA said in a statement on its website.
Booming e-commerce is conducive to higher rural consumption and also attracts entrepreneurial talent to rural areas, according to the MOA.
The MOA vowed to build a unified, orderly rural e-commerce market and efforts will be made to strengthen resource sharing, financing and credit system services.
Rural online transactions reached over 100 billion yuan ($16 billion) in 2014 and they are expected to hit 460 billion yuan by 2016.
The MOA statement echoed a guideline issued on Thursday by the State Council, China's cabinet, which pledged to develop e-commerce.