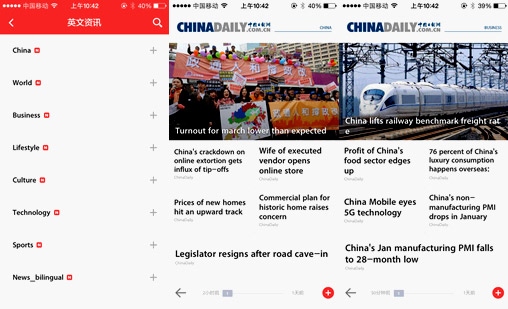 The homepage of China Daily Website on ZAKER is displayed in this iPhone screen shot. [Photo/chinadaily.com.cn]
For e-readers or news-oholics, carrying a mobile device that receives the latest curated information is easier and more efficient than reading an old school newspaper.
Personalized news reader platforms have seen rocketing in growth due to the development and popularization of digital tablets and 4G networks in China.
As one of the major players in the space of curated information, ZAKER was established in December 2010 and has since developed its service on the various mobile platforms, such as IOS, Android and Windows Phone.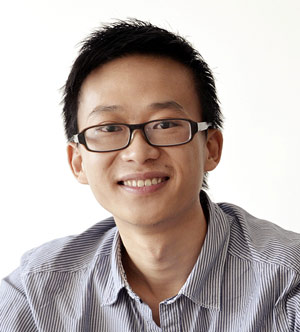 Li Senhe, CEO of ZAKER [Photo provided to chinadaily.com.cn]
Here we present an exclusive interview with Samuel Lee (Li Senhe), CEO of ZAKER, one of the major players in this booming market.
1. Compared with other products, what are the specific characteristics of ZAKER?
ZAKER is a Flipboard-like interactive sharing and customization reading platform that fill users' fragmented reading demand.
It can grasp the characteristics and needs of the audience through analysis, advanced algorithms and reading user preferences and attributes, and then make the greatest efforts to meet the individual needs of users.
2. How's the cooperation between ZAKER and traditional media?
ZAKER is a platform that provides profit for traditional media outlets. So far, we've reached more than 800 strategic media partnerships and thousands of news resources.
3. How do you estimate the user-generated content that is presented on ZAKER?
Apart from introducing content from professional media, we've launched a channel named "news topic", aiming at providing a platform for users who are eager to leave after-reading comments and encourage users to produce their own news in this online community.
4. More and more users are eager to share information through using news apps, and the demand for a socialized application based on a news app has witnessed a rapid increase.
Will the social attribute become one of the main aspects that affect the development of news applications?
The share function provided by ZAKER is welcomed by users.
Users can easily view, comment or forward content that is shared by friends, and their friends can make appropriate responses to these actions.
5. Does ZAKER provide special coverage for news events that attract wide attention?
ZAKER has always been a pioneer in working on news feed delivery.
During this year's "two sessions", a 24 hour daily rotational shiftwork was scheduled for the special coverage work. We also launched a special report on the "two sessions" for mobile devices.
ZAKER also produced news products that utilized technologies including HTML5 and JavaScript and also jointly worked with Xinhua News Agency to provide live reporting on the "two sessions".
6. Will the fast-growing number of self-employed media and official accounts on WeChat influence news apps' development?
ZAKER has been working closely with a certain number of well-known official accounts since the official account channel on WeChat was launched in 2013.
We provide secondary transmission for the accounts on ZAKER in attracting users, views and promoting brand awareness. This is a win-win cooperation model.