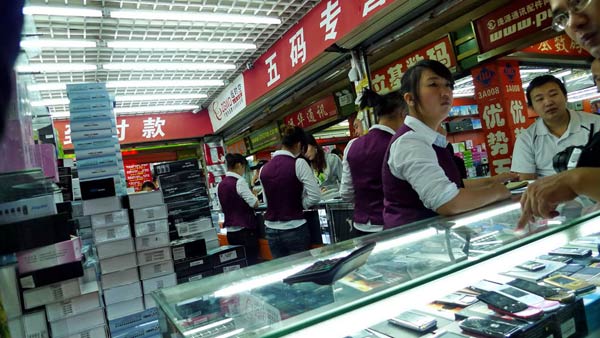 Saleswomen introduce functions of unbranded smartphones to customers at an electronics market in Shenzhen, Guangdong province. [Provided to China Daily]
Xiaomi Corp, one of the fastest growing tech companies in China, was seen as a copycat when it was founded in 2010, with critics saying it copied the feel and looks of Apple Inc's iPhone.
Now the Beijing-based smartphone maker has proven its success by not only becoming the No 1 vendor in terms of shipments in China in the fourth quarter of 2014, but also by becoming the target of those copycats.
According to a report released earlier this year, three out of the 10 most copied smartphone models in 2014 were from Xiaomi, with its Redmi Note being in the top slot.
The report by Antutu, a Beijing-based company dedicated to offering smartphone reviews and knockoff phone examination services, said Xiaomi smartphones were the most popular products among underground phone makers in China in 2014.
Four of the top 10 most copied smartphones were products from Samsung Electronics Co while the rest were from Chinese local players including Huawei Technologies Co Ltd and Vivo Communication Technology Co Ltd.
Wang Jun, a senior analyst with information technology consultancy Analysys International, said that the knockoff phone list is in line with the rise of China's smartphone makers and their expanding market share in the country. "Rather than copying the most expensive ones, copycats often set their eyes on market hits," said Wang.
Wang said despite the fact that Xiaomi's Redmi Note is a low-end smartphone priced at less than 900 yuan ($144), it made a splash when it was launched. Years ago, cell phones that looked exactly like the iPhone but have Android systems and a double sim-card module were the most popular knockoff phone in China, he added.
A knockoff phone refers to those unlicensed handsets made by underground manufacturers. Because of the strong manufacturing capability in China and the turnkey service offered by chip maker MediaTeke, which practically lowers the threshold for those who want to produce smartphones, copying products from those big name mobile phone makers has grown into an industry in the country.
Most of the knockoff phones look like originals from the outside but are filled with lower-end technology. And they are sold at the extremely low price of 100 yuan or 200 yuan each.
Statistics from Antutu showed that 8.1 percent out of the 16.72 million tested units of smartphone in the Chinese market were knockoffs last year. The rate of knockoff phones among all the tested phones slightly dropped from 8.94 percent in a similar study conducted by Antutu in 2013.
Regionally speaking, Guangdong province in southern China ranked the top in knockoff phones in 2014 with 253,679 different kinds of models being spotted during Antutu's tests.
Zhejiang and Shandong provinces ranked second and third with 67,729 and 66,192 knockoff models being found during tests respectively.
James Yan, an analyst at International Data Corp, a global market intelligence firm, said that there is no doubt that the knockoff phone industry in China is set to shrink further in the future.
"Competition among China's local handset makers is fierce. The profits of those underground phone makers have been slumped significantly. Many have given up the old business and create their own brands to engage in legitimate phone making," he said.
Statistics from China's Ministry of Industry and Information Technology showed that the profit margins of China's cellphone-making industry averaged at 3.2 percent in 2014 compared with the average 4.9 percent of the entire electronics manufacturing industry in the country.