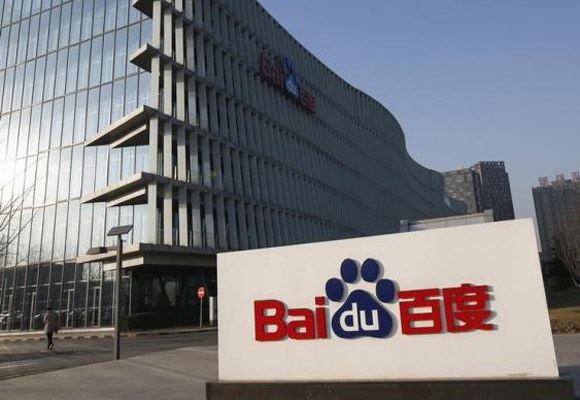 Baidu's company logo is seen at its headquarters in Beijing December 17, 2014. [Photo/Agencies]
The leading Chinese search engine Baidu Inc has entered the country's burgeoning car market with a joint investment in an online secondhand car trading platform.
Baidu, US-based private equity firm KKR & Co LP and Coatue Management Ltd, a US-based hedge fund, have jointly invested $170 million in China's largest online used car auction company Uxin Ltd.
The $170 million is the latest round of funding raised by Uxin to expand a new trading platform designed to allow auto retailers to sell used cars to individuals, said a joint statement from the companies.
China's largest Internet companies, collectively named BAT (Baidu, Alibaba and Tencent), are increasingly diversifying their investments to take advantage of the new opportunities that the fast-changing domestic business environment offers.
The current investment is in line with Baidu's strategy, wherein the Internet company can leverage its advantage of big data to help Uxin roll out its business-to-consumer service, said John Fang, a business analyst at China Market Research.
Julian Wolhardt, a partner at KKR, said: "China's online used car market is set to boom in the coming years, and KKR is very positive about this industry. Uxin's expansion into the B2C e-commerce segment comes at an important time for China's used car market."
Last year, China's used car market generated transaction volumes of about $58 billion, representing a 26.03 percent growth from a year earlier, according to official figures released by the China Automobile Dealers Association. Meanwhile, more than six million pre-owned cars were sold last year, 16.33 percent more than in 2013.
Ricky Lai, research analyst at Guotai Junan International Holdings, said: "China's second-hand car market is growing really fast. It is not surprising that more and more companies are looking to tap the market. The used car market is currently more appealing than the first-hand one due to the economic slowdown and as Chinese consumers are more willing to buy pre-used vehicles."
It is no secret that China's largest Internet companies are increasingly stepping over each other and driving their investments in the same directions to get the pole position in new, profitable market segments. And it seems that the automotive industry could experience another BAT love triangle.
"Alibaba is also trying to get into this market. The company signed a cooperation deal with Guanghui Auto to develop an online-to-offline second-hand car purchasing platform. I think two or three companies would become big and succeed, but it might take longer to integrate the offline dealers and penetrate into lower-tier cites" said Fang from China Market Research.
There is huge potential in the market so it will make sense for Alibaba to enter it too. It is a little early to say which companies Alibaba will collaborate with, but there is certainly room for it, said Lai from Guotai Junan.
Even as these big names enter a race to secure investments in the automotive industry, some have voiced concerns over the potential risks to small entrepreneurs.
Wanyan Wenhao contributed to this story.