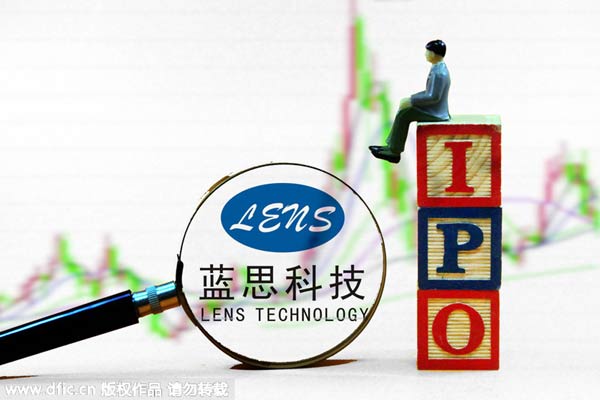 Though Apple fans in China will have to wait another month to get hold of the latest Apple Watch, capital market investors on Tuesday made a beeline for the new shares issued by Lens Technology Co Ltd, a major Apple Inc supplier, on the Growth Enterprise Market board in Shenzhen.
Lens Technology plans to sell up to 67.36 million shares and raise 1.5 billion yuan ($230 million) through its initial public offering.
The proceeds will be used to upgrade and expand production capacity of touch-screen glass covers and to make sapphire glass, used for screen-covers.
Established in 2006 and based in Hunan province, Lens Technology makes glass covers for various consumer electronics products such as smartphones, computers and cameras.
"Lens Technology has a very clear focus on its main business. Its future growth will be propelled by new materials such as touch-screen glass covers, sapphire glass and ceramics. With the widespread use of smart devices, touch-screen glass covers will have a higher penetration rate," said Qin Yuanyuan, an analyst with Industrial Securities Co Ltd.
According to a research paper released by Shenwan Hongyuan Group Co Ltd, Lens Technology shares are likely to be listed at about 56 yuan per share and its market value may climb to 37.7 billion yuan, which will make it one of the five largest companies on the GEM board in terms of market value.
However, based on the fact that all new shares on the GEM board have seen their prices surge, it is likely that its value may rise to 57 billion yuan.
If the analysts' estimates do come true, the 45-year-old Zhou Qunfei, chairwoman of Lens Technology, will become the wealthiest woman in China.
Since Zhou holds nearly 90 percent of the company's shares, she is likely to overtake Yang Huiyan, vice-president of real estate developer Country Garden who has an estimated personal wealth of 44 billion yuan.
Zhou has maintained a low-profile in the past decade and very little is known about her startup years in Shenzhen or her secret of standing out from the highly competitive companies from Taiwan.
Analysts have also expressed some concern on the company's ability to sustain profitability. After posting a net profit of 2.44 billion yuan in 2012, Lens Technology saw net profit drop to 1.99 billion yuan in 2013. The slide continued in 2014, with net profit falling by 51.6 percent to 1.17 billion yuan.
The company said that the decline was due to the slump in the gross profits of mobile phone glass covers.
Lens Technology is also highly reliant on major clients such as Apple and Samsung Electronics Co. Between 2012 and 2014, the combined sales to the two industry giants took up more than 70 percent of the company's entire sales revenue.
Lens Technology said in its prospectus that it will see profit fall by 50 percent if there is any fluctuation in the supplies to Apple or Samsung.
GT Advanced Technologies Inc, the once leading sapphire screen maker, filed for bankruptcy in 2014 after Apple stopped using its sapphire glass screens.