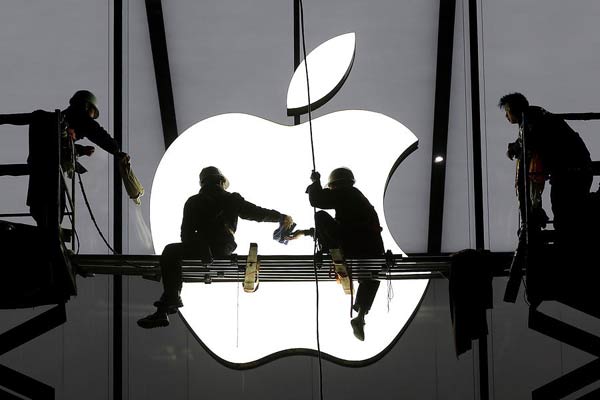 Workers prepare for the opening of an Apple store in Hangzhou, Zhejiang province, Jan 23, 2015.[Photo/Agencies]
Apple Inc, which has seen stagnating iPad sales, will delay the start of manufacturing for a larger-screened version of the tablet, people with knowledge of the matter said.
Production of the 12.9-inch-screen iPad is now scheduled to start around September because of delays involving the supply of display panels, said one of the people, who asked not to be identified because the details aren't public. Apple had initially planned to begin making the larger version this quarter, people familiar with those plans had said.
A new big-screen tablet is part of Chief Executive Officer Tim Cook's effort to reinvigorate the iPad product line, where sales have declined for four straight quarters. IPads are also facing competition from larger iPhones, which were introduced in September and helped Apple deliver record profit in the latest quarter.
Apple, based in Cupertino, California, currently sells the iPad with a 9.7-inch display and the iPad mini, which has a 7.9 - inch screen. Apple hasn't disclosed plans for a bigger iPad.
Existing providers of displays to Apple include Sharp Corp, Japan Display Inc and LG Display Co, according to the company's supplier list. All three suppliers fell, with Sharp sliding as much as 2.6 percent and Japan Display dropping 1.3 percent in Tokyo. LG Display declined as much as 1.8 percent in Seoul.
Business tools
A larger iPad could also bolster Cook's initiative to make Apple's products more appealing to business users. Apple announced a partnership last year with International Business Machines Corp to create mobile software for businesses and for IBM to help sell iPads to corporate customers.
Even as consumers shift away from tablets in favor of bigger smartphones, businesses remain a growth opportunity for iPads because the devices can be used for field work and as laptop replacements. In total, global sales of tablets to businesses, institutions and governments are projected to jump to 101 million units in 2018 from 19 million in 2013, according to IHS Technology.
Billionaire activist investor Carl Icahn cited the opportunity to boost iPad sales to businesses as one of the key reasons why he thinks Apple shares are undervalued. Improvements to the iPad and the IBM partnership should help boost revenue from the device by 13 percent in each of the next three fiscal years, Icahn wrote in a public letter to Cook last year.