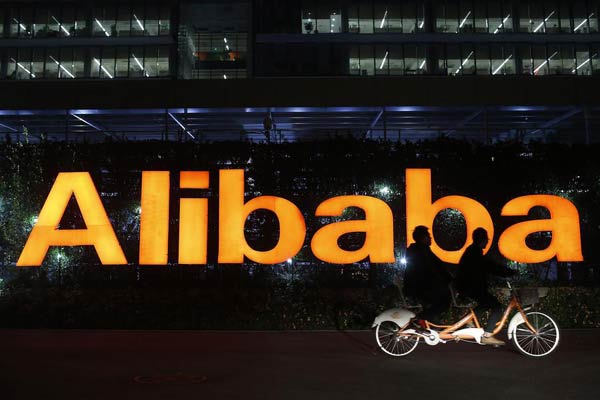 People ride a double bicycle past a logo of the Alibaba Group at the company's headquarters on the outskirts of Hangzhou, Zhejiang province Nov 10, 2014.[Photo/Agencies]
DUBAI - China's Alibaba Group sees huge potential for e-commerce because of the World Expo 2020 in Dubai and the FIFA World Cup 2022 in Qatar, Sophie Wu, the company's senior vice-president said on Wednesday.
In her key note at the Middle East and North Africa e-Commerce Conference, Wu said in the Middle East the number of users in e-commerce is expected to expand because of the two major events.
"The upcoming two events in Dubai and Qatar, the World Expo 2020 and the FIFA World Cup two years later, will draw more interest from Chinese sellers and buyers in these countries," said Wu.
"Through our e-commerce platforms, local Arab traders can reach out to the Chinese market and to the world as Alibaba is China's largest global online wholesale marketplace by revenue, having in store thousands of products in over 40 industries with registered users in 240 countries," she added.
"With 2.6 million users, the Middle East is one of the top growing regions for Alibaba," said Wu.
According to the consultancy Frost and Sullivan based in the United Arab Emirates (UAE), the volume for e-commerce alone is poised to grow from the current $2.5 billion per year to $10 billion by 2018, said Hisham Abdullah Al-Shirawi, vice-chairman of the Dubai chamber of commerce and industry.
In May, 2012, Alibaba set up a partnership with the Dubai chamber of commerce and other industry associations in the Gulf state to give member firms a better access to the online market platform.
So far, 12,000 member firms opted for an upgrade to e-commerce, said Al-Shirawi. Through the upgrade, a Dubai-based firm gets access to the Mandarin online website 1688.com which belongs to the Alibaba Group.
The Dubai government hopes for another push for e-commerce based on its holistic approach to transform Dubai into a smart city, so that the residents, visitors and firms can get all of the government service online or through their smart phones.
On Sept 19, Alibaba went public on the New York Stock Exchange, and claimed the title as the biggest initial public offering ever placed.