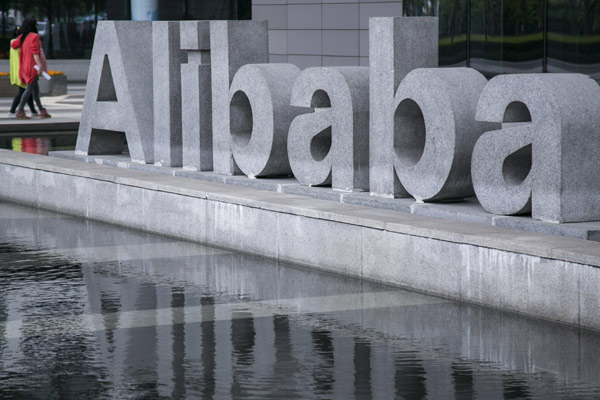 The headquarters of Alibaba Group Holding Ltd in Hangzhou, Zhejiang province. The company sold the largest portions of its bond sale in equal $2.25 billion offers of five- and 10-year notes. [Photo / Reuters]
Alibaba Group Holding Ltd raised $8 billion in its first sale of bonds at yields that were lower than originally offered after investors submitted orders of at least $57 billion to the e-commerce company.
"The premium we see associated with Chinese companies is absent in this case," said Dorian Garay, a New York-based money manager for the global investment-grade debt fund at ING Investment Management Co. "It feels like new-issue concession is non-existent."
Alibaba's debt offering adds to a banner year for corporate bonds with worldwide issuance of $3.8 trillion on pace to exceed $4 trillion for the first time. The Hangzhou-based company, which raised a record $25 billion in an initial public offering in September, will use proceeds to refinance some credit agreements, according to a Nov 13 statement.
The banks underwriting the biggest dollar-denominated notes by an Asian company lowered the premium by as much as 0.27 percentage points on its longest-dated bond, according to sources close to the offering.
Alibaba sold the largest portions in equal $2.25 billion offers of five- and 10-year notes, according to data compiled by Bloomberg. The 2.5 percent, five-year notes sold at a yield of 95 basis points above similar maturity Treasuries and the 3.6 percent, 10-year securities sold at a relative yield of 128 basis points, the data show.
Brigitte Posch, the London-based head of emerging market corporate debt at Babson Capital Management LLC said: "The market welcomes emerging-market names that are highly rated, particularly out of Asian countries that are highly rated for emerging market standards. Certain sectors benefit from a worldwide audience given the global scale of their business."
In so-called gray market trading, which involves selling allocation rights on securities before they are deposited in a buyer's account, the notes in most tranches, after rallying initially, had moved back to be in line with the spreads at which they priced. The 2034 bonds were an exception, quoted around the 146 basis point area, according to Australia & New Zealand Banking Group Ltd prices.
Arthur Lau, the Hong Kong-based head of Asia ex-Japan fixed income at PineBridge Investments said: "You have to understand this sector. If you buy the 20-year bonds then you have to sit with the credit through multiple economic cycles. The information technology sector is growing fast in China but it's still evolving."
Debt of Chinese companies typically yield about 20 basis points to 50 basis points more than that of their US peers, Anthony Leung, a Nomura Holdings Inc credit research analyst in Hong Kong, said in a report this week. A basis point is 0.01 percent.
Alibaba also sold $1.5 billion of 3.125 percent, seven-year notes, $1 billion of 1.625 percent, three-year securities, $700 million of 4.5 percent, 20-year bonds, and $300 million of three-year floaters, Bloomberg data show. The company initially offered the 20-year bonds at a premium of 175 basis points above similar maturity Treasuries, according to a person with knowledge of the matter.
Alibaba abandoned plans to include five-year floaters, according to a well-placed source.
The $8 billion sale eclipsed a $6.5 billion issue last month by Bank of China Ltd to become the biggest dollar-denominated offering by an Asian company.
The company is led by billionaire Chairman Jack Ma, who founded it from his apartment in 1999 with $60,000. Its main marketplaces include Taobao, which links individual buyers and sellers, and Tmall, which connects retailers and consumers.
While bond investors have been known to pad orders to ensure they get a bigger piece of securities in high demand, the size of Alibaba's book is rivaling those for other large offerings during the past two years, including sales by Apple Inc and Verizon Communications Inc.
For Apple's $17 billion offering in April 2013, the largest corporate-bond sale ever at the time, investors put in orders for $50 billion, people with knowledge of the transaction said. Verizon attracted buyers for as much as $100 billion before its record $49 billion offering in September 2013, people with knowledge of the deal said.
Morgan Stanley, Citigroup Inc, Deutsche Bank AG and JPMorgan Chase & Co managed Alibaba's debt sale.
Alibaba's notes are rated A+, or the fifth-highest investment-grade ranking, by Standard & Poor's Financial Services LLC and an equivalent A1 by Moody's Investors Service Inc.