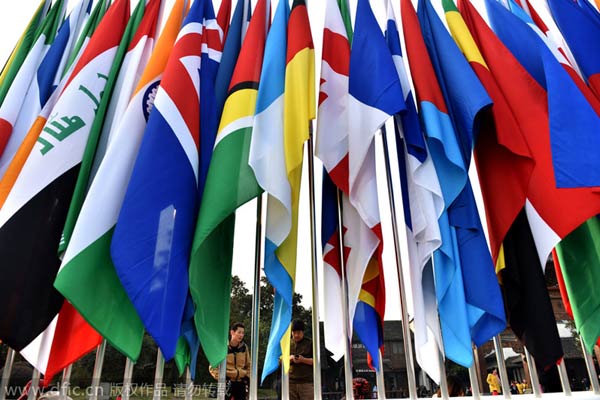 National flags of participating countries flutter outside the conference hall in Wuzhen, East China's Zhejiang province, Nov 17, 2014. [Photo/IC]
The inaugural three-day World Internet Conference, held in Wuhen, an ancient town of Zhejiang province, ended on Friday at noon.
More than 1,000 participants from more than 100 countries and regions reached a consensus that the Internet is a leading force of innovation-driven development powering economic and social progress.
With its rapid development come new challenges to national sovereignty, which require international cooperation to be met.
Participants called on the international community to work together to build a global governance system built on multilateralism, democracy and transparency, in order to keep cyberspace safe, open and cooperative.
At the conference's closing ceremony, Internet leaders said they will respect Internet sovereignty even as they enhance cyberspace's connectivity.
Meanwhile, they highlighted the urgency of cyber-security, particularly the fight against cyber-terrorism.
In this era of big data, cyber specialists confirmed the importance of boosting Internet technology, saying it would benefit the economy of each country.
In particular, it is imperative to provide a safer and healthier cyberspace for young people.